100 Hong Kong Restaurants Serve Vegan Impossible Pork And 54 percent of locals like it better than meat.
Impossible Pork will debut in Hong Kong in 100 restaurants on October 4th. Before launching in Hong Kong, Impossible Foods conducted a blind tasting test of more than 200 local consumers and found that 54 to 46 percent preferred their vegan pork to pork. Impossible Pork is made from similar ingredients to Impossible Burger, but with different fat ratios, a more pork-like texture and less soy leghemoglobin ("heme") – the ingredient that is responsible for the "meaty" taste of Impossible Foods products. Designed to mimic pork on all levels, the vegan meat can be used as a substitute for animal meat in dishes such as spring rolls, meatballs, dumplings, Xiao Long Bao and Shumai and can be cooked flat in a steamer, oven, grill, flat-top -Grill or frying pan.
The vegan pork will find its way into a variety of Hong Kong restaurants and will be available at different price ranges, including dim sum chain Tim Ho Wan – known as "the cheapest Michelin-star restaurant in the world" – Impossible Pork in will be offering four pieces of dim sum and rice dishes at all locations in Hong Kong. Chef May Chow – who held the title of Asia's best cook in 2017 – has the vegan pork in her restaurants Little Bao (where it's served as part of a Taiwanese "LuRou" scotch egg) and Happy Paradise (where Chef Chow gets Impossible Pork in a Dan integrate Dan pasta dish).
The early adoption of Impossible Pork by Hong Kong consumers is encouraging as the vegan pork is much more environmentally friendly than its animal counterpart. Compared to pork – the most widely consumed meat in the world and a cultural staple in the cuisine of many Asian countries – Impossible Pork has a much smaller impact on the planet, consuming 81 to 85 percent less water, 66 to 82 percent less land, and Cause 73 to 77 percent fewer greenhouse gas emissions. "Ground pork is central to so many classic Chinese recipes, from dumplings to spring rolls to dan-dan noodles," Chef Chow said in a statement. "I am thrilled that we now have a more sustainable alternative that does not have to compromise the original variety, deliciousness and depth of everyone's favorite recipes."
In November Impossible Pork will expand its presence in Singapore to include Southeast Asia and will be available in a number of restaurants including Prive, PS Cafe and Da Paolo. In the popular fusion restaurant Moonbow Dempsey, head chef Heman Tan – known as the "IronMan Chef of Singapore" for his sporting achievements – serves the vegan pork as part of a Crispy Cheesy Impossible Pork Ball.
Impossible vegan pork arrives
While Impossible Foods' plant-based pork was available at U.S. chains like Starbucks, Jamba, and Burger King, the company announced the launch of its Impossible Sausage (a vegan pork for home cooks) in 13,000 stores in August. The cholesterol-free vegan pork is available in both spicy and savory versions and has impressive health values. Compared to a 120-gram serving of 70/30 USDA ground beef, Impossible Pork contains 37 percent fewer calories, 59 percent less total fat, 36 percent less saturated fat, and almost three times more iron. In the States, too, early consumer acceptance of Impossible Pork is encouraging. In a small home use test of 136 consumers, Impossible Foods found that 66 percent of respondents said Impossible Sausage tasted as good or better than ground pork sausage.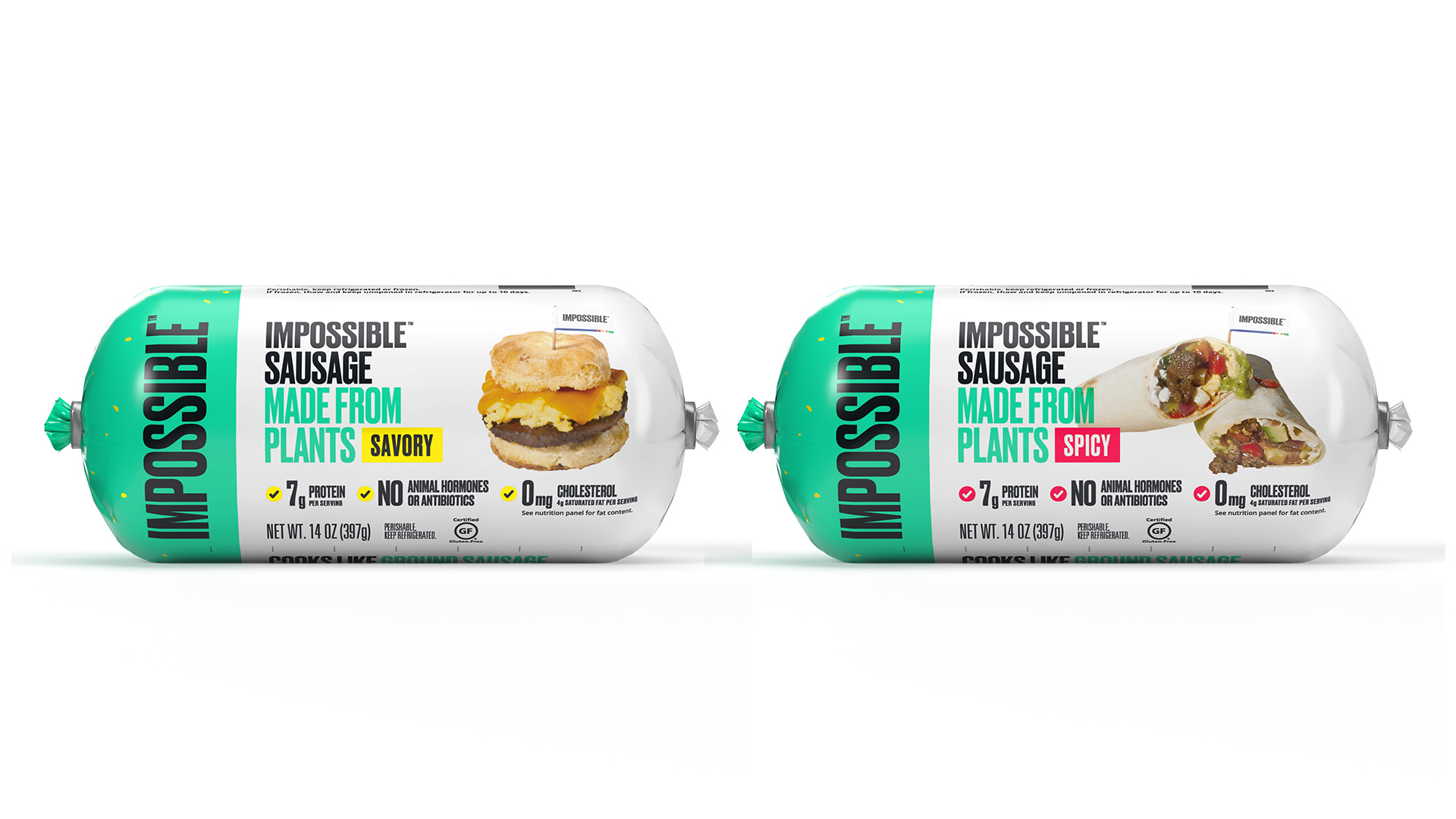 The vegan pork is also finding its way into more and more restaurant menus in the USA. Tomorrow, celebrity chef David Chang – one of the first chefs to add the Impossible burger to their menu at Momofuku Nishi – will be adding Impossible Pork to his Momofuku Ssäm Bar in New York City. Chang will recreate his favorite dish, Spicy Rice Cakes, with an Impossible Pork Ragu instead of meat.
"Our menu calls for high-quality, versatile ingredients, and Impossible Foods products always deliver," Momofuku Culinary Director Max Ng said in a statement. "Impossible Pork replicates the delicious taste and juiciness of pork, making it a perfect match for one of our most iconic dishes."
Replace animals with plants
Impossible Foods has set itself the goal of replacing all animal foods with viable plant-based alternatives by 2035. In addition to beef with its Impossible Burger and pork with its Impossible Pork, the company announced the launch of its third retail and foodservice vegan meat product, Impossible Chicken Nuggets, earlier this month. Preliminary taste tests of the vegan chicken with 201 carnivorous Texans showed similar success as Impossible Pork, with seven out of 10 participants preferring Impossible Chicken Nuggets over traditional chicken nuggets from a leading brand.
"We defeated the beast earlier this month with the introduction of Impossible Chicken Nuggets," said Dennis Woodside, president of Impossible Foods, in a statement. "With Impossible Pork, we're beating animals again and satisfying even more types of cuisine – another important step towards making the global food system much more sustainable."
!function(f,b,e,v,n,t,s)
{if(f.fbq)return;n=f.fbq=function(){n.callMethod?
n.callMethod.apply(n,arguments):n.queue.push(arguments)};
if(!f._fbq)f._fbq=n;n.push=n;n.loaded=!0;n.version='2.0′;
n.queue=[];t=b.createElement(e);t.async=!0;
t.src=v;s=b.getElementsByTagName(e)[0];
s.parentNode.insertBefore(t,s)}(window, document,'script',
'https://connect.facebook.net/en_US/fbevents.js');
fbq('init', '224533741955785');
fbq('track', 'PageView');