20 Ben & Jerry's Non-Dairy Flavors: Rank
It is a wondrous and slightly scary experience to see almost 20 different ice cream pints open in front of you – all perfectly thawed and ready to try. That was the situation I found myself in when I visited Ben & Jerry's headquarters. Together with other media representatives, I scooped up and enjoyed every taste for my frenzied dopamine pleasure. Throughout the year, I continued to enjoy an occasional pint of B&J as a reminder of that Willy Wonka-esque day. In my humble (but extremely stubborn) opinion, all of Ben & Jerry's non-dairy flavors are rated here from fine to top (because let's face it, there aren't any bad flavors here) plus a bonus flavor exclusive to ice cream lovers in the United Kingdom.
Vegan Ben & Jerry's in the UK
The dessert experts at this popular ice cream company have given the UK an exclusive vegan flavor: Non-Dairy Salted Caramel Ice Cream. The pint's signature salted caramel swirl is complemented by chocolaty brownie pieces for perfect spoons of salty and sweet.
Ben & Jerry's ranking
19. Cherry Garcia

I never really understood the madness about this cult taste. I've tried both the milk (pre-vegan) and non-dairy versions, and while I was pleased to see that they taste the same, the taste itself never really thrilled my taste buds. If that chocolate and cherry combo makes you want to do backflips, this pint might be higher on your list.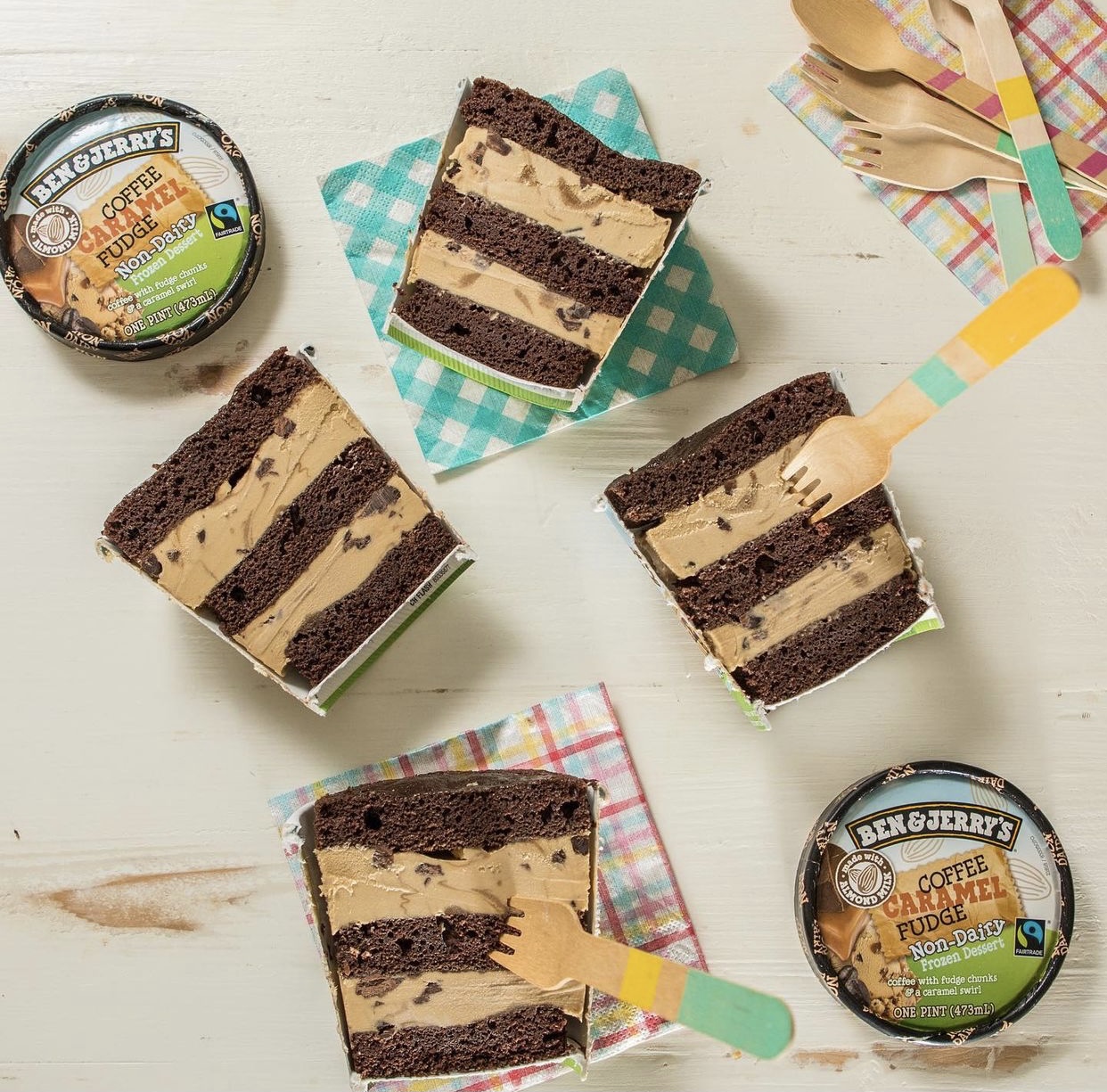 18. Coffee and caramel fudge

As a person who works best next to a cup of coffee, I usually tend towards coffee-flavored sweets. That's good, but I'd prefer fewer chunks and swirls and more straight, velvety coffee flavor. Of course, that's not the B&J way, and that flavor parallels the brand's commitment to mix-ins.
17. Phish food
Another classic, Dairy Free Phish Food hit the headlines and surprised fans upon its release. Like the original, this flavor combines chocolate ice cream with a caramel swirl, a marshmallow swirl (with vegan mallows!) And fudge fish. Fans of the classic will love this pint, but it just felt a little too much chocolate and caramel for me.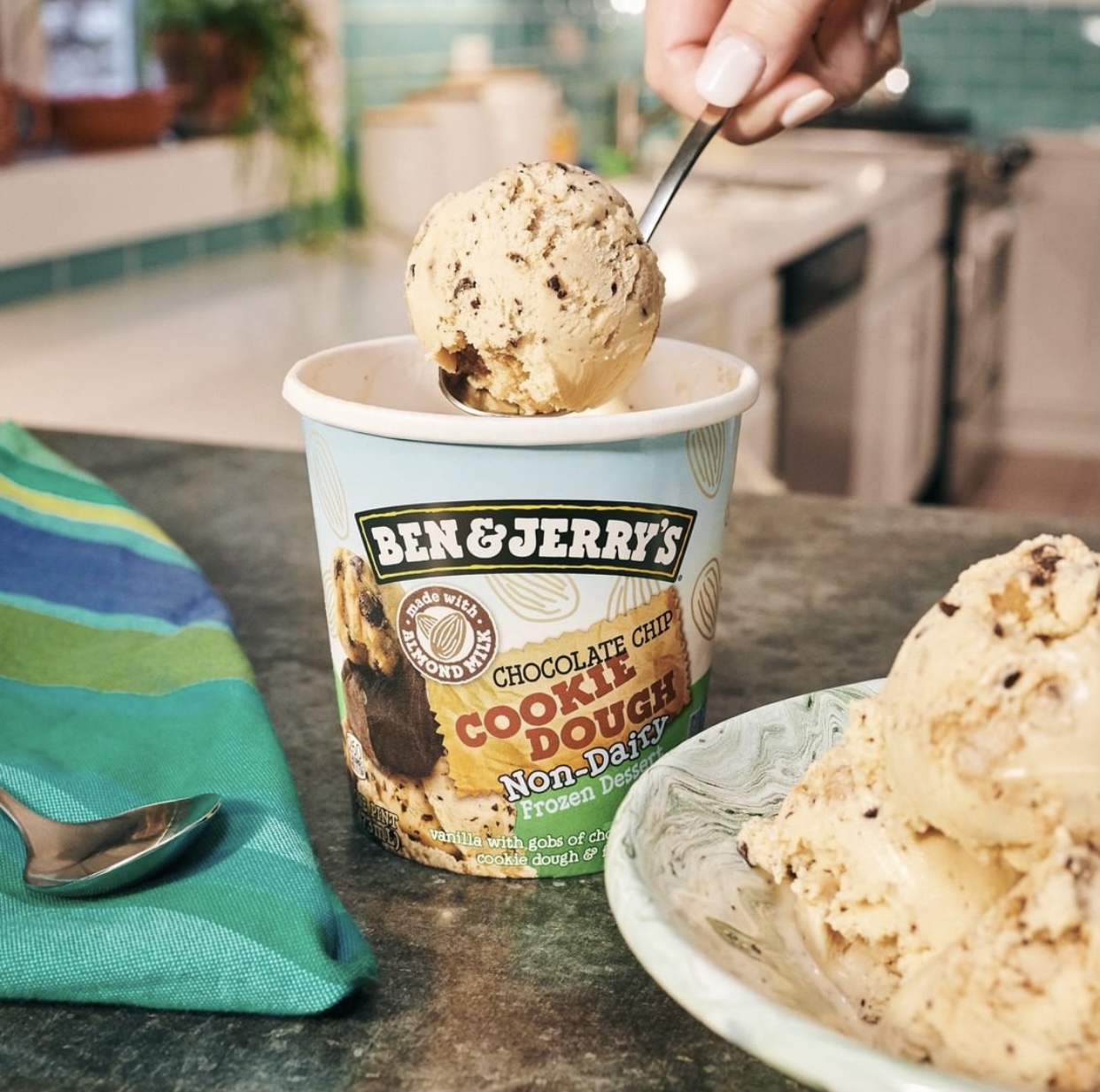 16. Chocolate Chip Cookie Dough

I applaud the controversy over this ranking as I know this classic flavor is popular with millions. There's a reason the company finally launched its vegan cookie dough pieces. Although this ice cream is delicious, for me the product is only about to hit the nostalgic note from childhood.
15. Caramel Sutra Core
As the first dairy-free flavor in Ben & Jerry's core line, this pint of chocolate and caramel ice cream is dotted with fudge chips and filled with a sticky caramel core. While I tend to deviate from this flavor pairing, lovers of the chocolate-caramel duo will be delighted.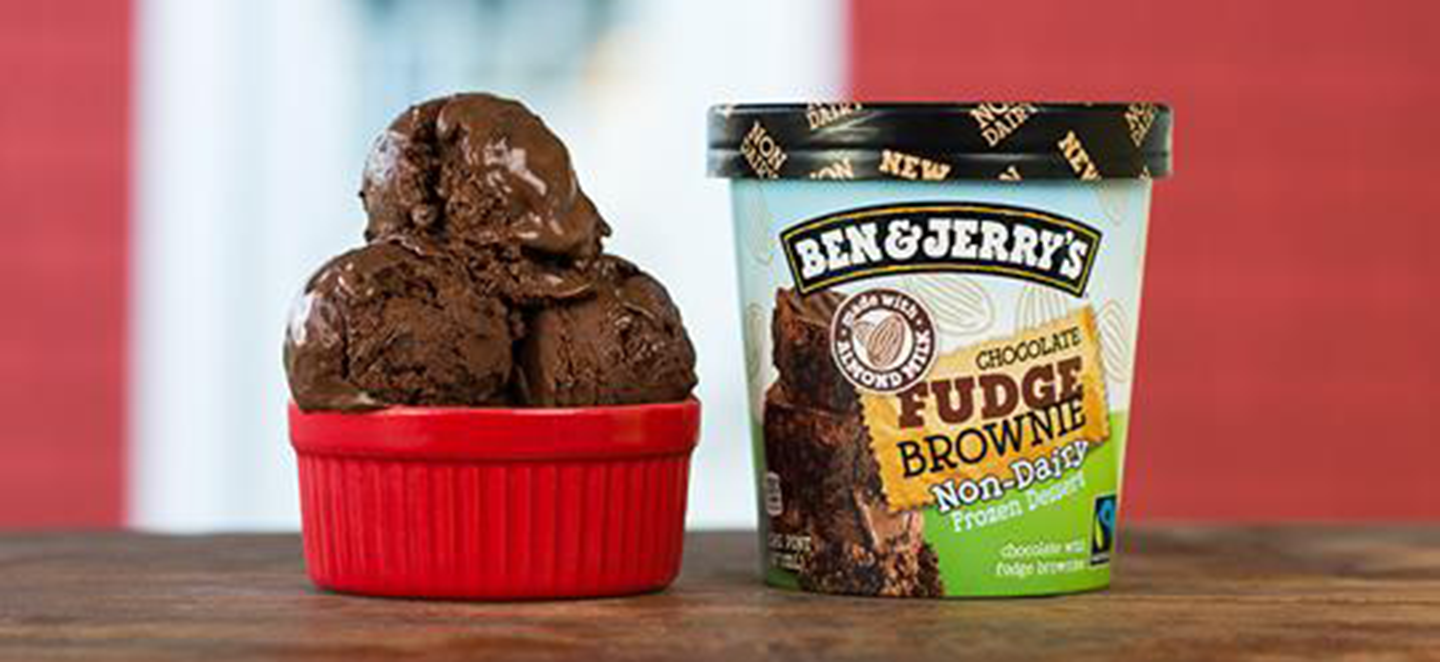 14. Chocolate Fudge Brownie
One of the first dairy-free Ben & Jerry's flavors to hit the market in 2016, this pint made my heart beat faster four years ago. However, that was before I realized what these flavor gurus (yes, that's their name) really can do. The Chocolate Fudge Brownie is a lot … chocolate. Yes, it's redundant, but when I open a pint I expect a little more variety in taste.
13. Half-baked peanut butter

The name of this ice cream certainly doesn't reflect the innovation behind it – the complexity of its components is by no means half-baked (sorry, bad pun). Peanut butter and chocolate ice cream are marbled together and peppered with fudge brownies and peanut butter cookie dough. If the chocolate fudge brownie is too monotonous, it might just be a little too much.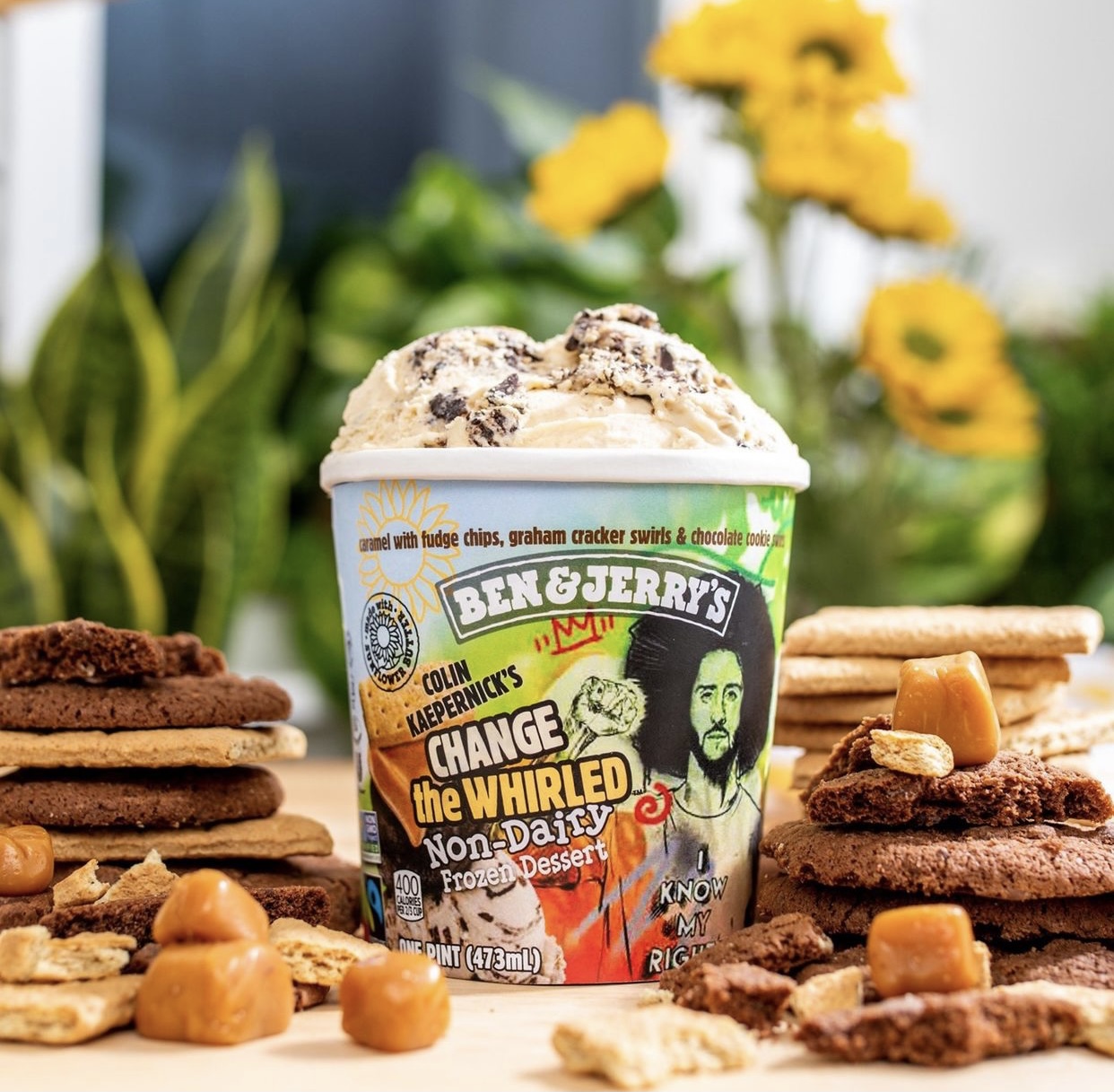 12. Change the vertebrae
The graham cracker swirls in this flavor are the star of the show. Made with caramel-flavored ice cream, it also features chocolate chip swirls and fudge chips. The best part? Part of the sales will be donated to Colin Kaepernick's Know Your Rights Camp to advance the welfare and liberation of the Black and Brown communities.
11. Creme brulee biscuit

One of the newest flavors in the Ben & Jerry's collection, this caramel-like treat is made with sunflower butter instead of the brand's original almond milk base. The result is an exceptionally rich and creamy ice cream without a hint of sunflower flavor. While the texture is just divine, the taste is very sweet. However, if I presented a burnt caramel ice cream with salted caramel and lumps of brown sugar cookies, I wouldn't say no.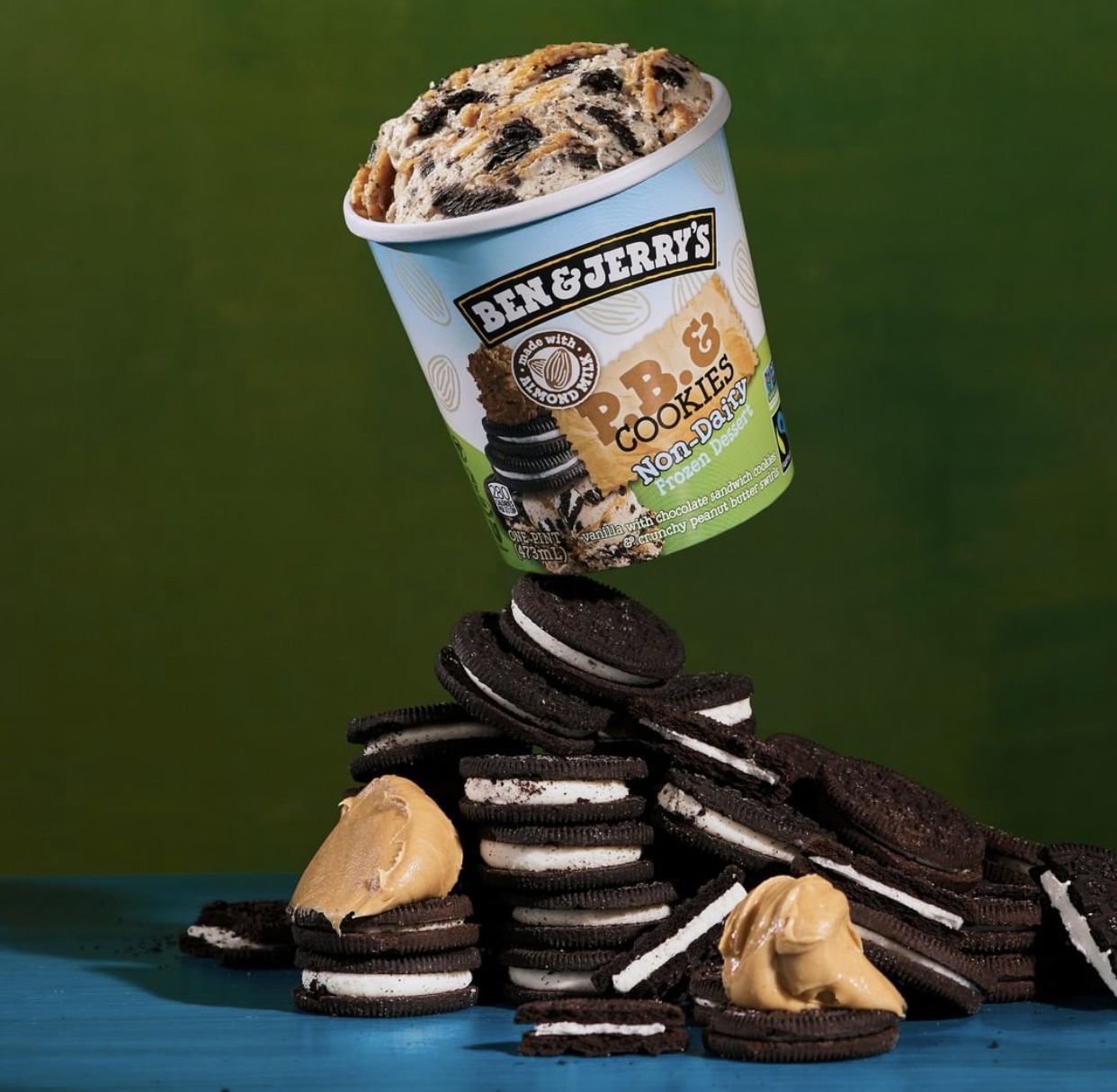 10. P. B. & Cookies
If you are a fan of oreos dipped in peanut butter, you have to try this flavor. It got its run in scoop stores and has since been withdrawn to pint-only. I enjoyed this vanilla ice cream swirled with coarse peanut butter and topped with chocolate sandwich cookies, but when it's hard pressed I prefer oreos which are coated in peanut butter and dipped in cashew milk.
9. Seven Layer Coconut Bars
While Jerry did tell us that he would never get a pint of that flavor through, I thought it was superb. Just like with dessert, there's a lot going on here, but it works. Coconut ice cream acts as the glue between the copious pieces of fudge, walnuts, and strips of graham crackers and caramel swirls. It's a refreshing outlier from the predominant flavors of chocolate and biscuits.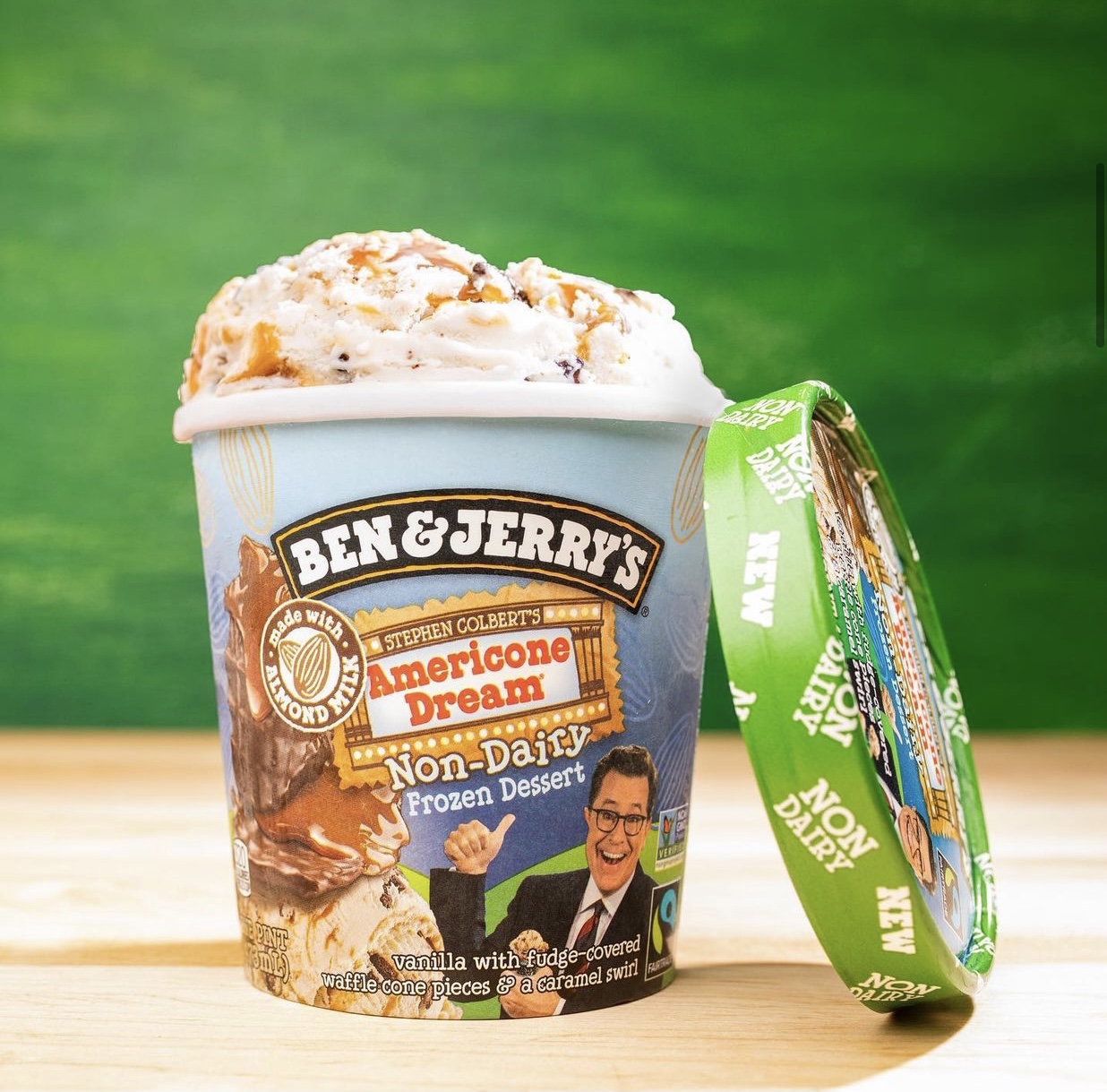 8. Americone Dream
This Stephen Colbert approved flavor combines classic vanilla with a caramel swirl. And in true B&J fashion, it's littered with fudge-coated waffle cones. I love this flavor for the complete ice cream experience.
7. Chocolate and caramel clusters
While I'm not the biggest fan of chocolate meets caramel, that taste has changed my perspective. The peanut chunks add an element of crunch and balance out the smooth fudge chunks and velvety chocolate ice cream. The whole flavor combination is brought together with a salted caramel ribbon. During last year's sampling extravaganza, I went for seconds of this flavor.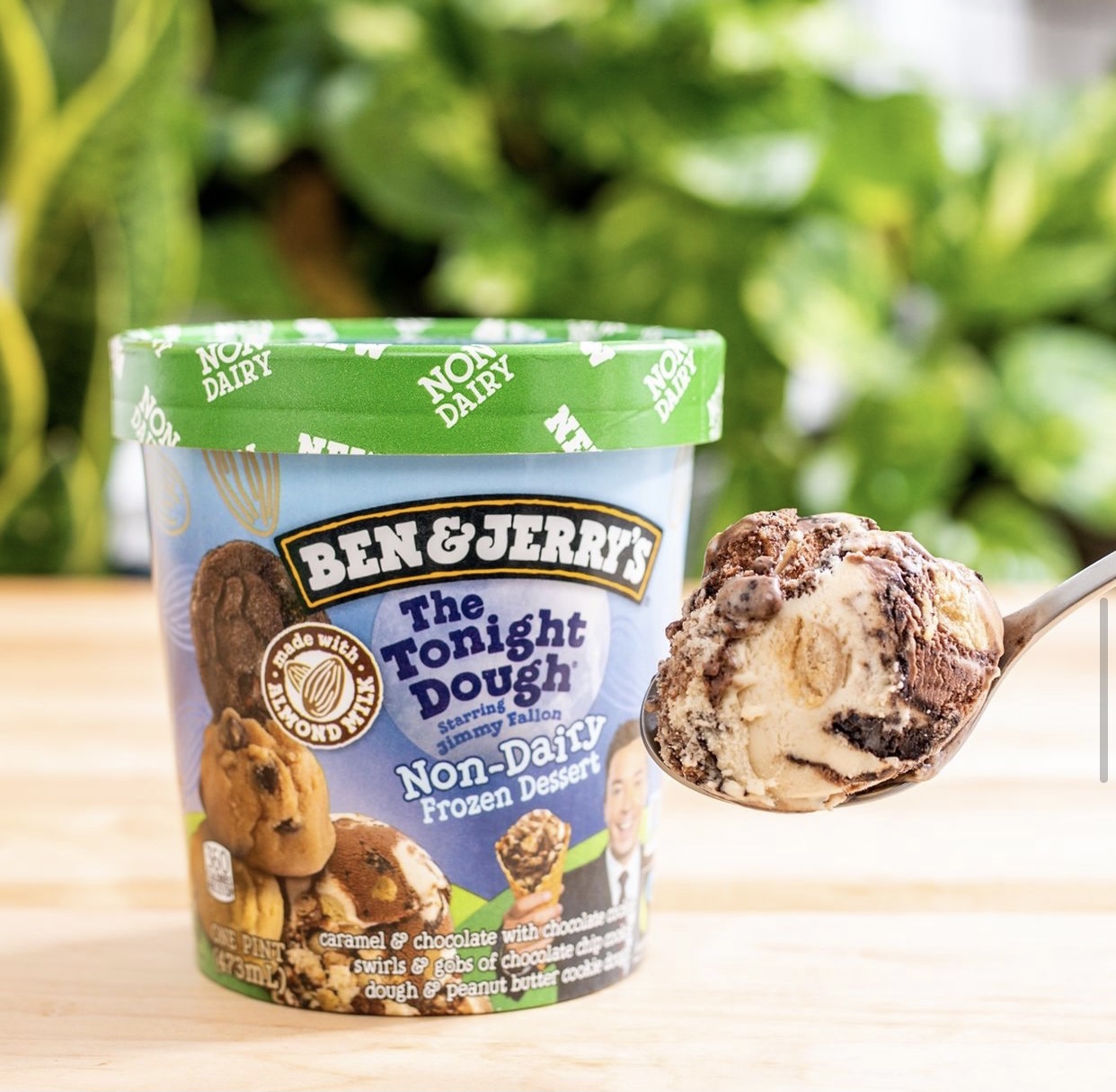 6. The tonight batter
Made with caramel and chocolate ice cream, this Jimmy Fallon-inspired flavor features a chocolate chip swirl along with generous drops of chocolate chip and peanut butter cookie dough. The touch of chocolate chip cookie swirls and PB cookie dough made me come back for more.

@ sophieeatsicecream / Instagram
5. Chocolate Salted 'n Swirled
This was just before the chocolate and caramel cluster. Instead of peanuts and fudge, this caramel-like chocolate ice cream is covered in giant chunks of chocolate sandwich biscuits. The biscuit pieces become perfectly soft and bared when mixed with the ice cream – replicating an ice box cake texture. It is legitimate.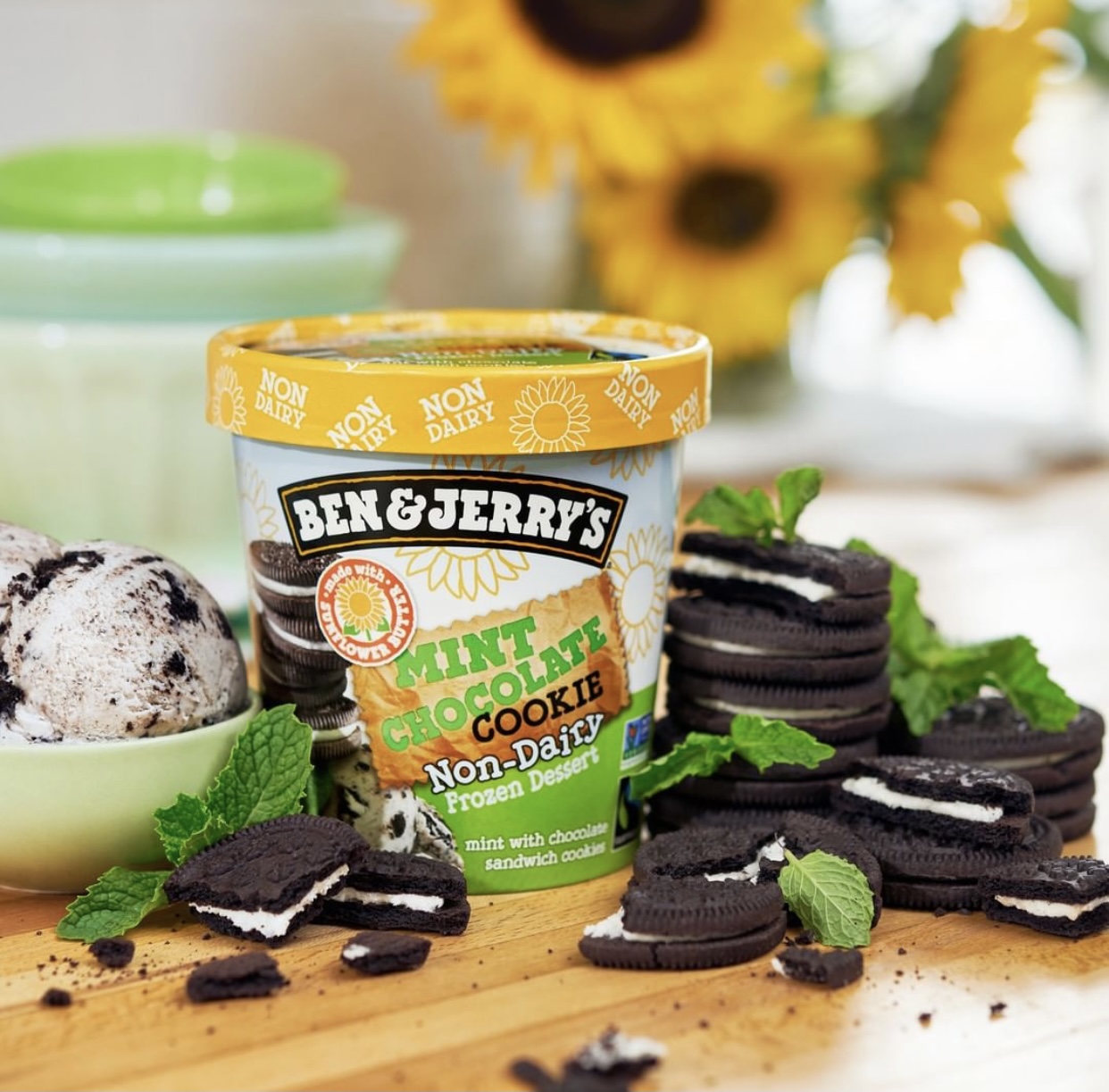 4. Mint chocolate chip cookie

Just under my top 3 is this wonderfully minty pint made from sunflower butter. Relatively simple by Ben & Jerry's standards, giant chocolate sandwich biscuits are poured over mint ice cream. Yes, it is and nothing more is needed.
3. "Milk" & Cookies
Think cookies and cream, but exponentially superior in every possible way. Plain vanilla sunflower butter based ice cream doubles as a blank canvas for chocolate chip cookies, chocolate sandwich cookies, and chocolate chip cookie swirls. It's essentially an ice cream sundae in a pint – just add vegan whip and a cherry.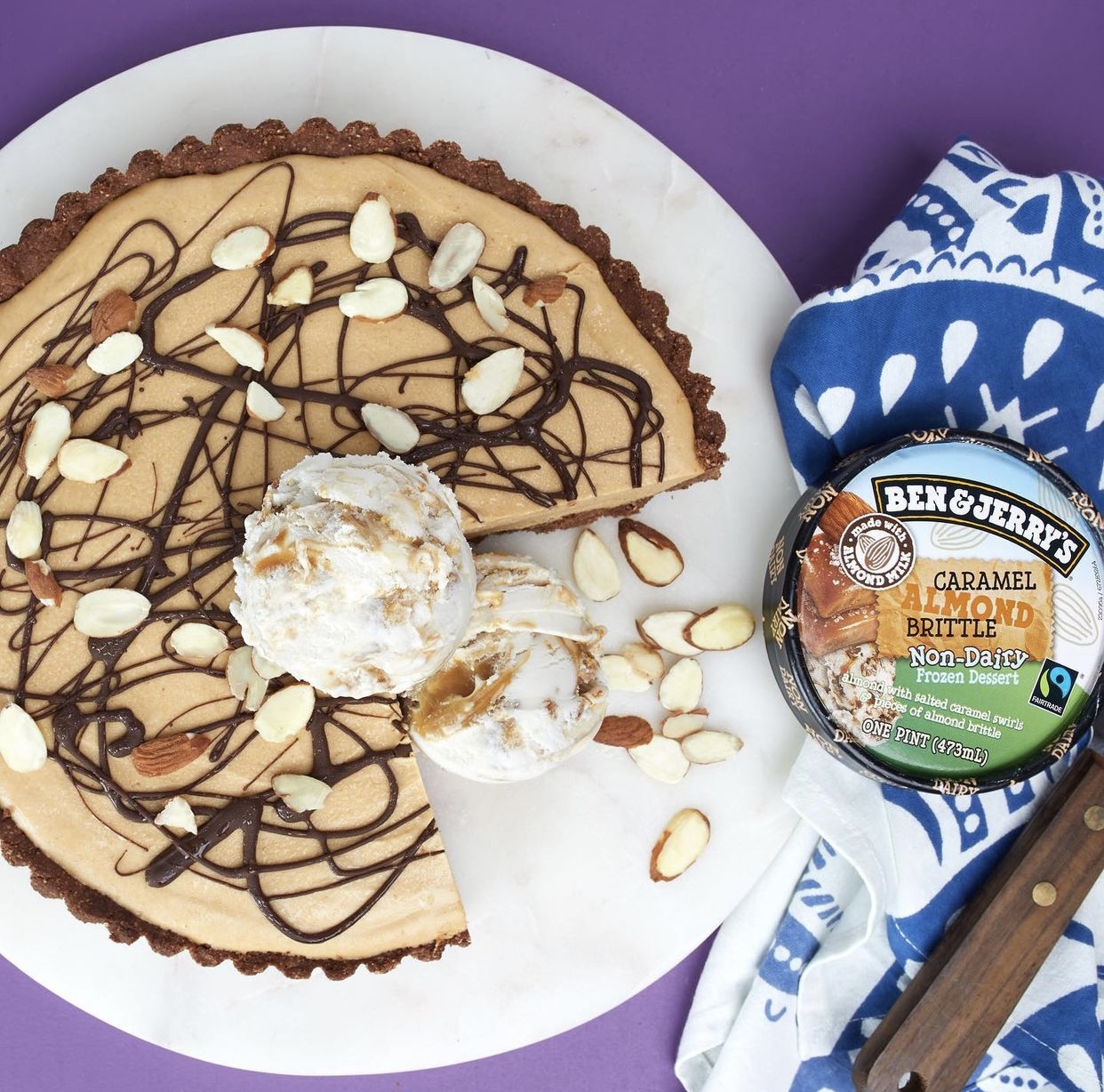 2. Caramel and almond brittle
This was unexpectedly my clear favorite until my number 1 debuted last winter. My taste is very chocolate and batter, but Ben & Jerry's surprised me with this excellent combination of flavors. Silky smooth almond ice cream goes perfectly with a salted caramel strudel and crispy almond brittle. It's perfect in every way.
1. Netflix & Chill'd
When it comes to Ben & Jerry's dairy-free taste, resistance is futile. This exaggerated taste somehow doesn't cross the "too much" barrier and delivers the ultimate indulgence. I'll be forever in love with this peanut butter ice cream topped with fudge brownies and a salted pretzel swirl. How do you even make a strudel out of salted pretzels? My mind is blown and my senses are overloaded with joy when I indulge in this taste. Hats off to you, Ben and Jerry, for constantly pushing the limits of what vegan ice cream can be.
Tanya Flink is a digital editor at VegNews, and a writer and runner who lives in Orange County, CA.
!function(f,b,e,v,n,t,s)
{if(f.fbq)return;n=f.fbq=function(){n.callMethod?
n.callMethod.apply(n,arguments):n.queue.push(arguments)};
if(!f._fbq)f._fbq=n;n.push=n;n.loaded=!0;n.version='2.0′;
n.queue=[];t=b.createElement(e);t.async=!0;
t.src=v;s=b.getElementsByTagName(e)[0];
s.parentNode.insertBefore(t,s)}(window, document,'script',
'https://connect.facebook.net/en_US/fbevents.js');
fbq('init', '224533741955785');
fbq('track', 'PageView');