Cade Cunningham, the number one NBA draft pick, is vegan
Oklahoma State vegan basketball player Cade Cunningham was the number one pick during this week's NBA draft. For the next NBA season, the 19-year-old, who has been vegan since high school, will travel to Detroit to play for the Pistons. Immediately after he was announced as the first NBA draft pick, Cunningham spoke to the ESPN broadcast crew. When asked why he chose to go vegan, the 220-pound, six-foot-tall athlete stated that he wanted to experiment with a plant-based diet first to see how his body would respond.
"I think most of all I just wanted to try something new for my body and see how my body reacts to it," he said. "So after trying it, I did it for two weeks." Cunningham explained that he ate at McDonald's during a trip with Team USA to Greece in 2019 during the FIBA ​​World Cup. "We weren't used to the food we had out there," said Cunningham. "So I started eating burgers and stuff again, [but] On this trip I said to myself: 'I'm going vegan again and I'm sticking to it.' "
Cade Cunningham brings vegan eggs to Detroit
While many athletes partner with sugary soda brands for advertising deals, Cunningham recently became the newest athlete ambassador for Eat Just, the company behind the vegan egg substitute JUST Egg. And when he moves to Detroit, Cunningham will be the inspiration for a new meatless option at the city's popular FOLK Cafe.
The "Cade Stack" will be available for a limited time at the Corktown Café this August and will contain a mung bean-based JUST Egg Folded, Shakshuka cheese sauce, lettuce leaf basil, vegetables, rosemary potato chips and Zingerman's plant-based farmer's bread. VegNews is checking how you can order The Cade Stack vegan.
Vegan NBA stars
Cunningham – who says his goal is to become the next LeBron James – is in good company in the NBA and joins a number of big names who already lead vegan lifestyles. In 2017, Kyrie Irving went vegan while playing for the Boston Celtics and credited his plant-based diet with the team's 13-game winning streak. Irving also opted for the plant-based route in the ambassadors' department when he partnered with Beyond Meat to promote the company's plant-based meat as part of the "Go Beyond" campaign.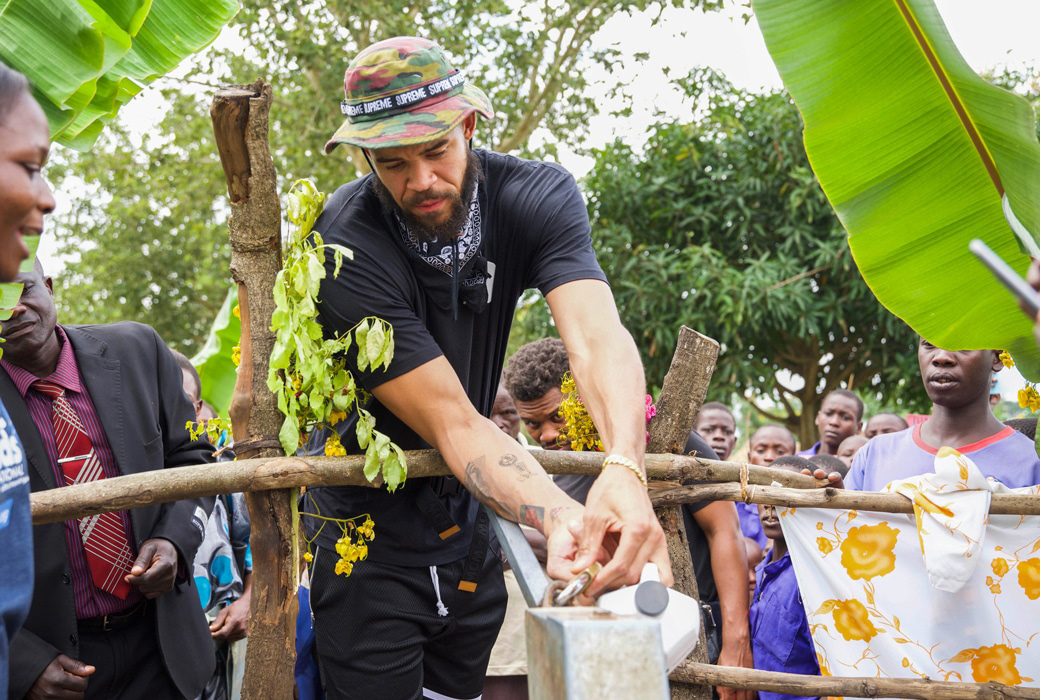 The Denver Nuggets Center JaVale McGee went vegan back in 2016. The 35-year-old athlete recently teamed up with vegan brand Outstanding Foods to launch the #HellaHotChallenge, a campaign that encourages fans to eat spicy Hella Hot Outstanding Puffs without reaching for water. The challenge was created to promote the McGee JUGLIFE organization, which aims to help communities in need to live healthy lives through clean water.
Chris Paul has also been vegan since 2019 and, like Irving, noticed improvements in his athletic performance after removing animal products from his diet. The star of Phoenix Suns – known as "CP3" – recently took its veganism off the court with a partnership with the online marketplace goPuff, which offers a variety of consumer products for fast delivery across the country. Paul joined goPuff to help the platform diversify their herbal offerings, especially those made by black and brown owned companies.
In addition to being a downright vegan, Brooklyn Nets Center DeAndre Jordan put on his own vegan cooking show. Cooking clean, on the athletes' own network, PlayersTV. For his part, Jordan went vegan for "cold turkey" to both improve his game and reduce his environmental footprint. Both Jordan and Jrue Holiday of Milwakee Bucks (who currently plays basketball for Team USA in the Tokyo 2020 Olympics) are Eat Just ambassadors.
Photo credit: OSU Athletics / Eat Just
!function(f,b,e,v,n,t,s)
{if(f.fbq)return;n=f.fbq=function(){n.callMethod?
n.callMethod.apply(n,arguments):n.queue.push(arguments)};
if(!f._fbq)f._fbq=n;n.push=n;n.loaded=!0;n.version='2.0′;
n.queue=[];t=b.createElement(e);t.async=!0;
t.src=v;s=b.getElementsByTagName(e)[0];
s.parentNode.insertBefore(t,s)}(window, document,'script',
'https://connect.facebook.net/en_US/fbevents.js');
fbq('init', '224533741955785');
fbq('track', 'PageView');