NYC is one step closer to its first vegan mayor
This week, Brooklyn District President Eric L. Adams was named the Democratic winner of New York City's mayoral election – bringing NYC one step closer to its first vegan mayor. Adams, 60, won against former NYC plumbing commissioner Kathryn Garcia, former City Hall legal advisor Maya Wiley, and former 2020 presidential candidate Andrew Yang.
Adams officially announced his candidacy for NYC Mayor in November 2020 during a Zoom call that was attended by hundreds of volunteers. "Like many New Yorkers, my life has been full of struggles. It wasn't always easy. My mother worked her fingers on the bonnet houses to raise six children alone, "said Adams. "But we persevered – because the New Yorkers do that. Now the city is suffering. And I know that I can help because I've lived the lives of the people who are hurt the most. I've seen what works and what doesn't in this city. In order to be really progressive, we need to remedy this [the] Government and remove the inefficiencies that hold us back. "
Adams' personal childhood experience with police brutality led him to a civil service life, including 22 years with the New York City Police Department (NYPD). As a police officer, Adams wanted to bring about change from within and founded 100 Blacks in Law Enforcement Who Care, an organization that campaigned against racial profiling and fought for criminal justice reform. Adams left the NYPD to pursue a career in politics and was the first black man to be elected President of Brooklyn Borough in 2014.
Is NYC Ready For A Vegan Mayor?
Adams went vegan in 2016 to combat the debilitating symptoms he experienced after being diagnosed with type 2 diabetes. To help others regain control of their health, Adams recently released Finally healthy, a book where he details his plant-based transformation, talks about diet-related chronic diseases as they affect color communities, and shares 50+ vegan recipes. To expand his message beyond NYC, Adams has also appeared in several documentaries promoting plant-based life, including the upcoming film They're trying to kill us– which examines the intersections of diet, poverty and systemic racism.
As President of the Brooklyn borough, Adams has helped citizens and other New Yorkers take control of their health through a number of initiatives, including leading a herbal medicine program within the city's largest medical system, NYC Health + Hospitals / Bellevue. Adams also worked with current NYC Mayor Bill de Blasio to implement Meatless Mondays in 15 Brooklyn schools, a program that the Mayor expanded to all 1,700 NYC public schools in 2019.
During the COVID-19 pandemic, Adams continued his commitment to the public service by helping distribute plant-based meals to those in need and, with the help of 40 health professionals, created a public service announcement to bring color to New Yorkers encourage (those disproportionately affected by the COVID-19 pandemic) to live vegan. In May, Adams approved a $ 10,000 discretionary grant to help establish the Food as Medicine Initiative, a complementary program to the existing nutrition curriculum at the State University of New York's Downstate College of Medicine (SUNY) that will help future medical professionals to understand how plant-based nutrition can be used in medicine.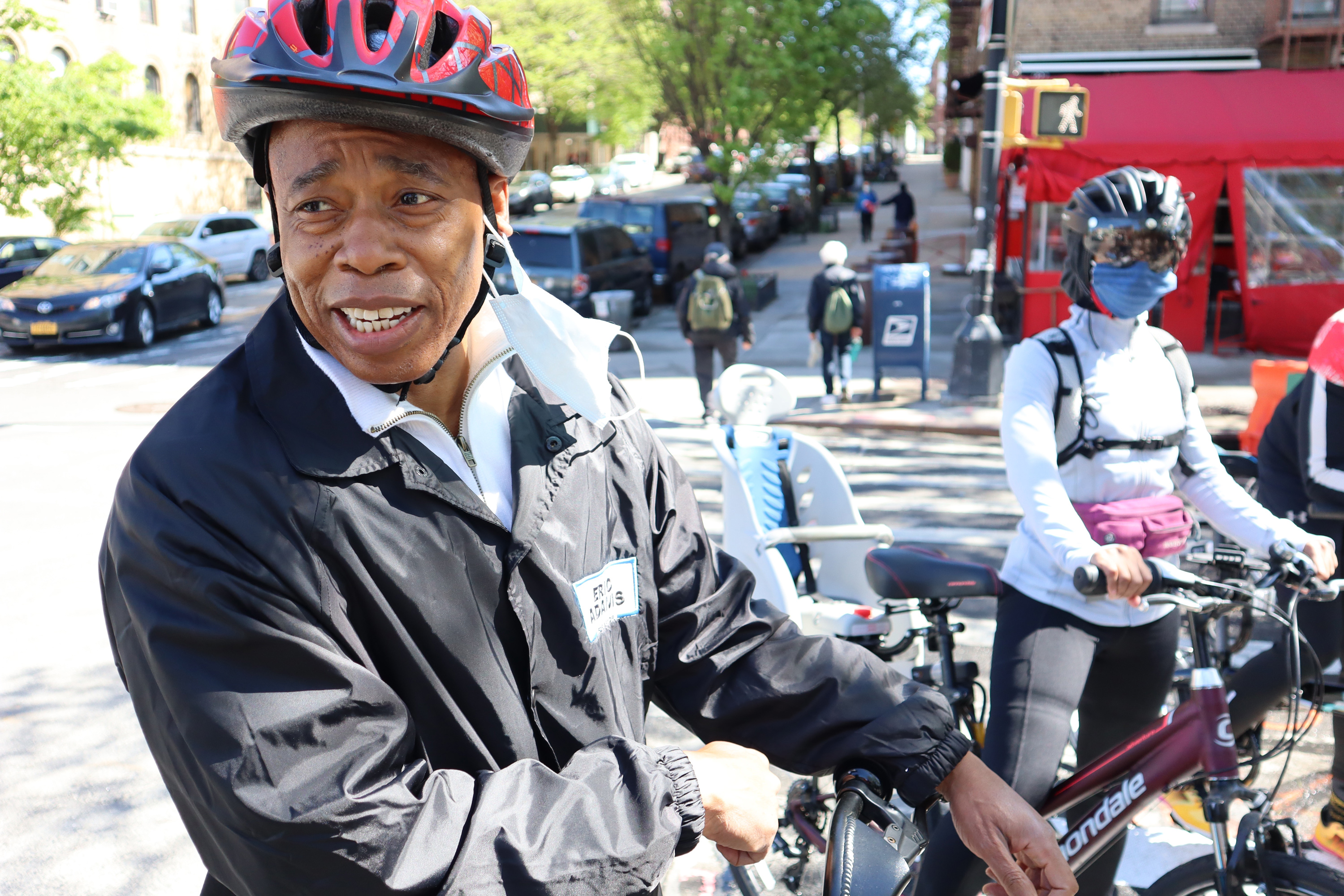 "COVID may have made thousands of New Yorkers sick, but for far too many it was inequality and an unjust, indifferent, dysfunctional government that killed them," Adams said. "We need action, and we need it now. New York's promise has always been – and always has to be – that every New Yorker can be what he should be. If we unlock the potential of New Yorkers by allowing them to thrive, there will be no pandemic, no recession, no division that we cannot overcome. "
Adams will run against Republican candidate Curtis Sliwa in the November 2, 2021 general election in NYC, a city where nearly 70 percent of registered voters are Democrats.
Photo credit: Rachel Atcheson
!function(f,b,e,v,n,t,s)
{if(f.fbq)return;n=f.fbq=function(){n.callMethod?
n.callMethod.apply(n,arguments):n.queue.push(arguments)};
if(!f._fbq)f._fbq=n;n.push=n;n.loaded=!0;n.version='2.0′;
n.queue=[];t=b.createElement(e);t.async=!0;
t.src=v;s=b.getElementsByTagName(e)[0];
s.parentNode.insertBefore(t,s)}(window, document,'script',
'https://connect.facebook.net/en_US/fbevents.js');
fbq('init', '224533741955785');
fbq('track', 'PageView');