That's how much extra you pay for non-dairy milk at these top cafes
The general opinion in the coffee community is that dairy-free milk is and is valued as an individual adjustment. Regardless of the order – be it a 4-ounce cortado or a 16-ounce ice latte – customers are expected to pay anywhere from 50 cents to a dollar to swap cow's milk for a dairy-free alternative. While we could argue several points against this arbitrary charge (believe us, we're really close to a full swear word), we're going to bypass the soapbox for now. As you navigate the world of coffee shop chains, here's what you need to know when looking for your next oat milk cappuccino.
Starbucks
Starbucks
On the plus side, Starbucks stocks an abundance of non-dairy solid milk, and its Oatly range seems to have finally stabilized. Unfortunately, this range of plant-based milk is going to cost you. Most Starbucks locations charge 70 cents for soy, oat, almond, coconut, or almond milk; However, in certain key areas such as New York City, the surcharge can be up to 80 cents.

Dunkin '
Dunkin '
Dunkin fans who only stick to coffee are clear here. The chain doesn't charge any extra for adding oat, almond, or coconut milk to hot or iced coffee. A surcharge of 50 cents is only charged for lattes and other milk-based espresso drinks. Pro tip: Order your usual Medium Regular with oat milk and opt for a latte somewhere else.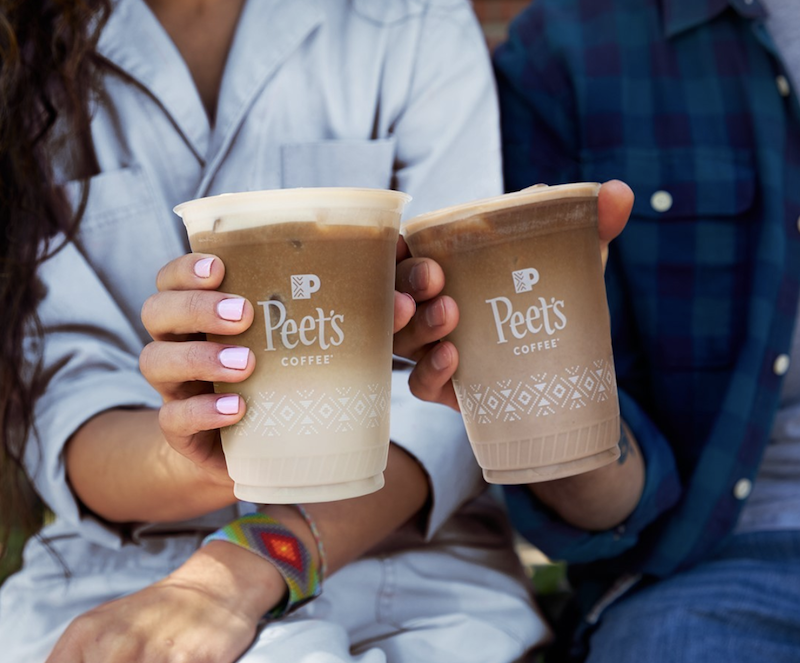 Peet's coffee and tea
Peet's coffee and tea
We applaud Peet's for his efforts to keep up with the plant-based movement. While the chain was being discontinued, the chain sold vegan whipped cream from 2016 and vegan cookies and muffins for years. We also can't get enough of the new plant-based breakfast sandwich with Beyond Meat Breakfast Wurst and JUST Egg. Peet's could only get better by lowering its 75 cents surcharge on dairy alternatives (recently increased from 65 cents).

Coffee bean and tea leaf
Coffee bean and tea leaf
Dairy-free customers don't want a lack of options here – the chain, known for its ice blended drinks, sells soy, almond, coconut and oat milk. It'll only cost you 60 cents extra for this oat milk flat white with vanilla bean sauce (avoid the powdered flavors as they all contain dairy products).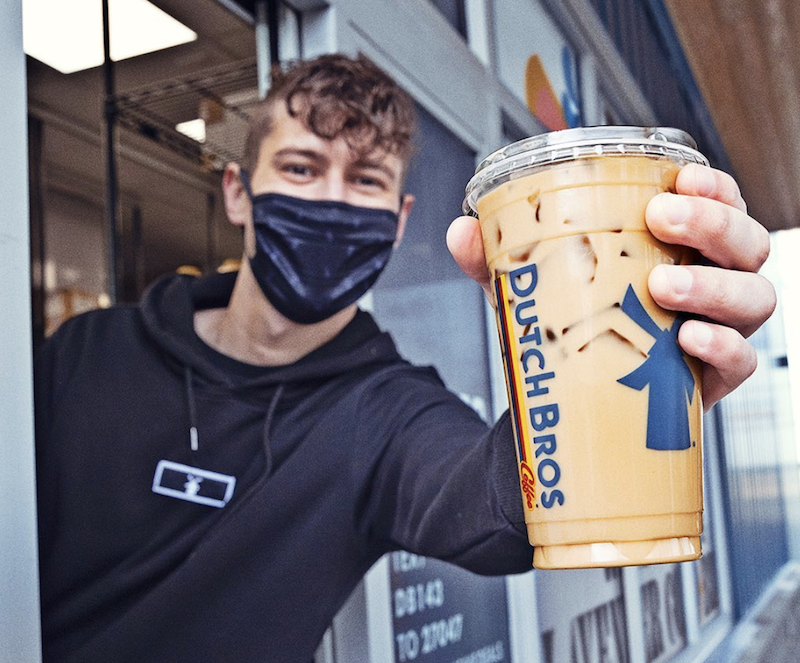 Dutch Bros
Dutch Bros
If you're really on the go, stop by a Dutch Bros. This only drive-through coffee chain sells oat, almond and coconut milk as well as soy milk at selected locations. Before you hand in your credit card, know that the almond milk latte with chocolate macadamia nut syrup costs 50 cents extra.

Caribou coffee
Caribou coffee
The soy and almond milk supplier in this chain must have gold flakes, because you pay 80 cents extra for every milk-based espresso drink that is ordered with a dairy-free alternative.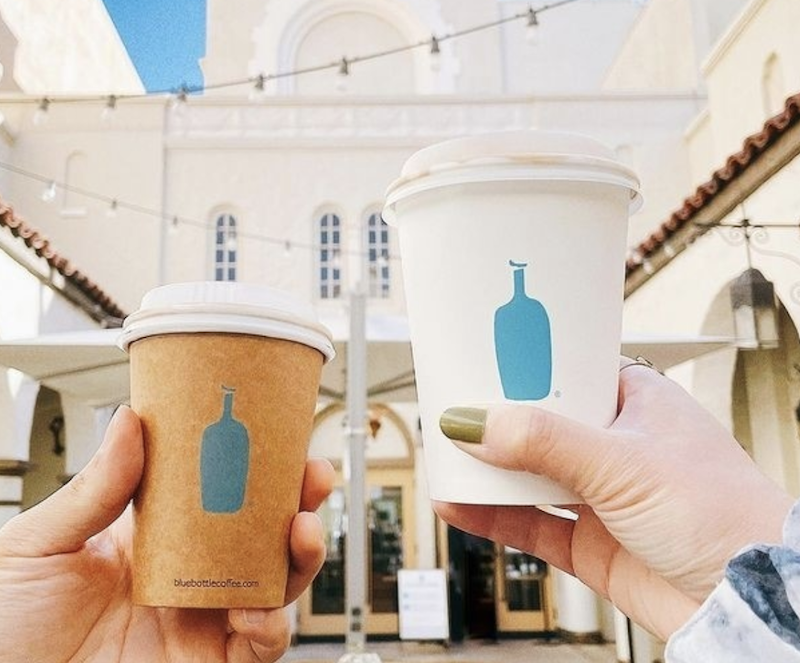 Nibble with Megan
Blue bottle
For a 90-location third wave cafe, we were shocked to find almond and oat milk are free at Blue Bottle. We have of course become regulars.

Biggby coffee
Biggby coffee
This Midwestern cafe puts an emphasis on almond and oat milk, but ordering soy or coconut can save you the 50 cents surcharge. Remember, the next time you visit, you'll be enjoying a uniquely flavored latte.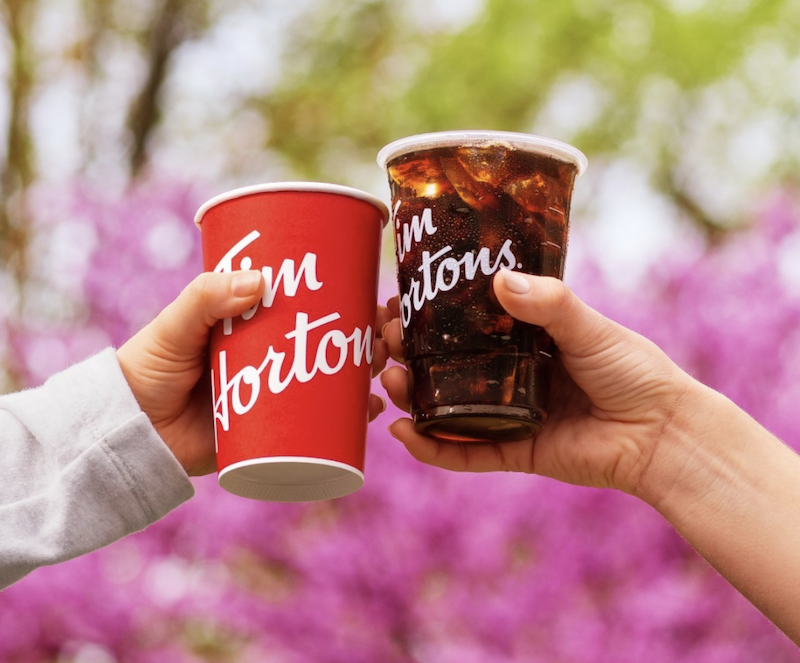 Tim Hortons
Tim Hortons
Tim Hortons for the win! While this chain may be a little late for the non-dairy party, it has never charged a surcharge on their soy or almond milk. Note: Not all locations have both alternatives.

Philz coffee
Philz coffee
Hats off to this coffee-oriented chain. Not only does it cost no extra charge for its oat, soy, or almond milk options, it actually is two percent milk removed from his menu to make room for this highly sought-after plant milk. Watch out, Starbucks.
Tanya Flink is digital editor at Vegetable News as well as a writer and runner who lives in Orange County, California.
!function(f,b,e,v,n,t,s)
{if(f.fbq)return;n=f.fbq=function(){n.callMethod?
n.callMethod.apply(n,arguments):n.queue.push(arguments)};
if(!f._fbq)f._fbq=n;n.push=n;n.loaded=!0;n.version='2.0′;
n.queue=[];t=b.createElement(e);t.async=!0;
t.src=v;s=b.getElementsByTagName(e)[0];
s.parentNode.insertBefore(t,s)}(window, document,'script',
'https://connect.facebook.net/en_US/fbevents.js');
fbq('init', '224533741955785');
fbq('track', 'PageView');