The Complete Vegan Guide to Walt Disney World
With four theme parks, over 20 on-site hotels, a Disney Springs shopping and dining district, and two water parks, the 40 square mile Walt Disney World Resort in Orlando, FL offers an incredible variety of dining options – including vegan options galore. In October 2019, Disney launched a plant-based initiative that brought more than 400 vegan items to Walt Disney World restaurants. At a resort roughly the size of San Francisco, we'd have to hire a full-time vegan Disney correspondent to get through it all. Instead, we've created a guide that will allow you to confidently navigate through all of the options without fear of cross-contamination with animals or ordering a meal that is less than spectacular at Fantasia level. May your vegan dreams come true on your next visit to the most magical place on earth.
Vegan Disney food
Download the app
Your first step after backing up your ticket is to download the My Disney Experience app. From there, you can make your park reservations for any theme park you want to visit. This is a new step since the parks reopened after the pandemic temporarily closed. You can also use the app to make food reservations, look up menus and order from counter service locations up to six months in advance. Tip for pass holders: upload your payment information to the app before entering the park to avoid holding your credit card in a crowded line. A bad guy could wipe it away!

Aena enchants
magical kingdom
Table service
When you've sprinted from trip to trip and need to rest your feet, sail to the Jungle Navigation Co. LTD Skipper Canteen where you can enjoy the Falls Family Falafel, Curry Tofu and Vegetable Crew Stew, Perkins Thai Noodles and a vegan Panna Cotta dessert. If you prefer more traditional theme park dishes, The Plaza restaurant has an Impossible Chili Burger with grilled mushrooms, lettuce and tomatoes, which is served with french fries. Alternatively, you can re-enact the Lady and the Tramp scene at Tony's Town Square in between spaghetti and Impossible Meatballs or a vegan strawberry shortcake dessert!
Let's not forget about character food! The crystal palace includes Winnie the Pooh and Friends interacting with you as you peel down the vegan Fried Cauliflower Steak and all the fixins. Be our guest and Cinderella's royal table also offer character dining with vegan options – just be prepared to pay a princely price for your meal ($ 62 per adult for a three-course meal).
Counting service
Visit Sonny Eclipse, the favorite pop singer of all time, while enjoying an Impossible burger at. enjoy Cosmic Ray's starlight café. Grab a vegetable bratwurst with sauerkraut in the Brother's nook, a vegan pizza Pinocchio village house, or a veggie rice bowl Pecos Bill Tall Tale Inn & Cafe.
Snack cart
Grab a Mickey pretzel or vegan popcorn as it is from one of the many carts around Cinderella Castle and all of the themed lands. At Adventureland, you'll find the brand's iconic Dole Whip in three different flavors – pineapple, orange, and raspberry – but if you're really looking for something inside-out, stop by Storybook goodies in Fantasyland for Dole Whip with a lime or cherry flavor. Tip for passport holders: No matter which Dole Whip flavor you order, you will receive it as a float.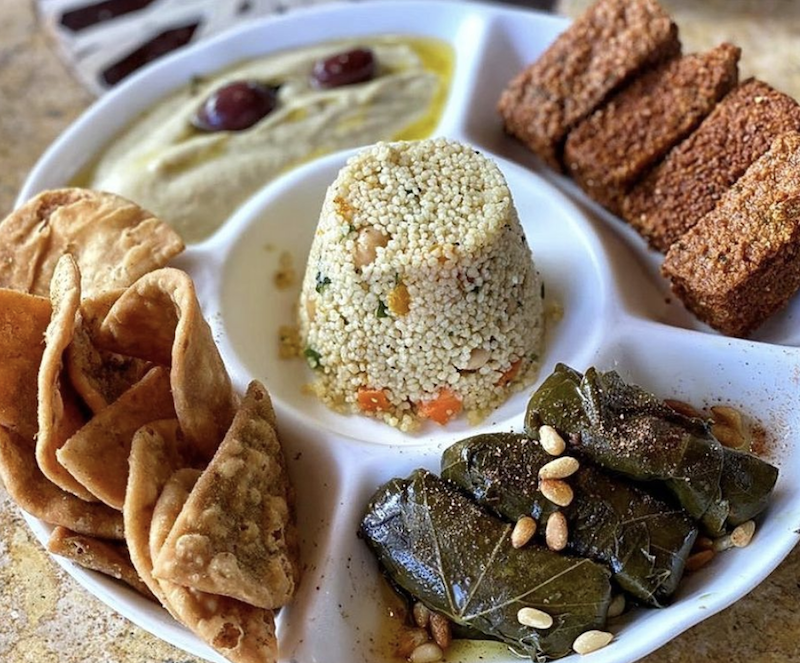 Michelle's magical moments
EPCOT
Table service
While travel bans still apply in some parts of the world, EPCOT's internationally-inspired dining scene offers a taste of what's out there. Have a seat for vegan poutine and Impossible Chorizo ​​Meatballs Le Cellier to be found in the Canada Pavilion of the World Showcase. Spice Route table over in the Morocco pavilion offers delicious little bites like pomegranate, chilli and crunchy cauliflower, hummus fries and stuffed grape leaves.
Counting service
Over in America, go to the Muppets subjects Royal Eagle Smokehouse for an Impossible burger with grilled jackfruit and served on thick vegan Texas toast.
Snacks
Some travel to EPCOT just for the snack – the park offers some nibbles that you won't find anywhere else in Disney World. The exclusive vegan snacks include kakigori shaved ice or chilled edamame in Japan or a huge Bavarian pretzel in Germany. A brand new gelateria in the Italy pavilion offers strawberry and lemon sorbet in a vegan waffle cone. Those who can't get enough of Disney classics will of course always find popcorn at stands in the park as well as the classic Mickey soft pretzel on the cart right in front of the country pavilion.

Heather Coursen
Disney's Hollywood Studios
Table service
Hollywood Studios is a park where quick service options outweigh table service, but there are still some vegan options if you need to put your feet up. A plant-based polenta cake with mushrooms and herb cauliflower can be found at Ristorante Italiano by Mama Melrose– a California-themed Italian restaurant.
Counting service
One of the best quick meals in the entire resort is the Felucian Garden Spread at Docking bay 7 in the Star Wars themed land Galaxy's Edge. This offers Impossible kefta-style meatballs on a bed of hummus topped with pillow-like flatbread. We have been told by omnivores that this item far surpasses its meat-based analogue. Another quick service option is the vegan toasted "lobster" roll that you get with. Find Rosie's All-American Cafe. This east coast favorite consists of palm hearts topped with a spicy hummus and vegan mayo dressing. No, it doesn't taste like lobster, but it tastes good. For vegan home cooking, grab the Toasted Cheese Sandwich and Chili Cheese Totchos Woody's lunch box in Toy Story Land.
Snack cart
The popular, Instagram-worthy blue and green milk is available in Galaxy's Edge. Made from a blend of coconut and rice milk (and surprisingly no food coloring – it's spirulina and turmeric), these unearthly milks are vegan. You can also find Mickey-shaped popcorn and pretzels in the park – that's Hollywood, after all, popcorn is indispensable.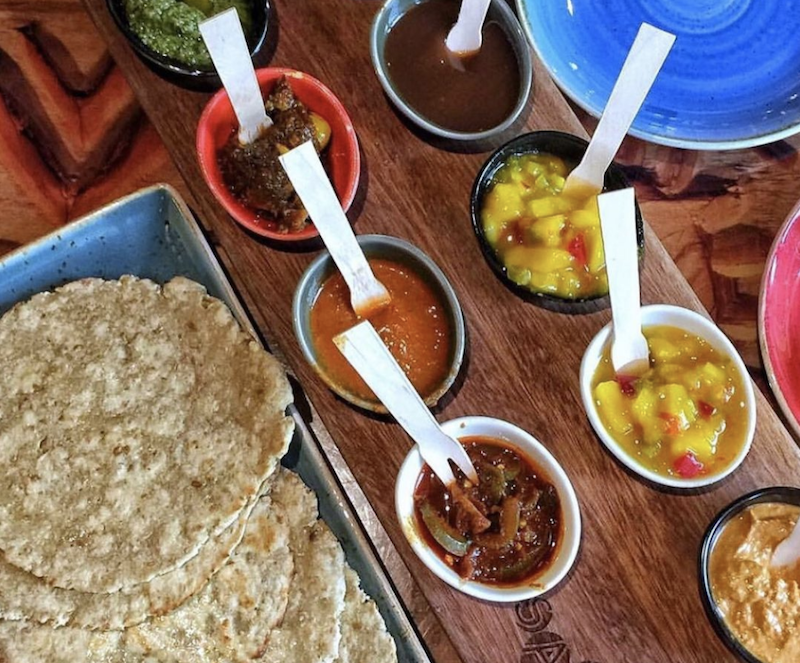 Vegan Disney food
Disney's animal kingdom
Table service
In the Nomad lounge On the edge of the Pandora: World of Avatar section, you'll find Impossible Sliders served with yucca fries, which can be easily made vegan by crushing the chipotle aioli. Other items can also be veganizable (Tiffins bread service, seasonal vegetables), just ask your server. Tip for pass holders: save the food for later and benefit from the incredible cocktail menu here.
Counting service
If you want to dine and stroll, stay in Pandora for Satu'li canteen. The solid vegan option is the Crispy Tofu Bowl, which is served with potatoes or beans and rice of your choice and then topped with chimichurri sauce and vegan boba balls. It's a common order from omnivores and vegans alike. Flame tree grill On the other side of the park there is a vegan hot link sausage with a spicy mustard barbecue sauce, coleslaw and crispy onions. Sit down and enjoy the view of the Everest expedition roller coaster while you eat!
Snack cart
Stroll through the Harambe Fruit Market for grilled corn on the cob with (or without) African spices. You can smell the corn grill as you walk around – it's impossible to resist. You can also find popcorn and even a simba-shaped pretzel on carts in the park.

Vegan Disney food
Vegan eating tips
Aside from the parks, there is a lot more to consume between the hotel's dining options, Disney Springs, and the water parks. The takeaway here is that depending on your culinary interests (plant-based meats, tofu, or vegetable dishes) there really is something for everyone at Walt Disney World. Here are the things you need to know while navigating a menu at Walt Disney World Resort:
When viewing the menus in the app or website, each plant-based option should be clearly noted. If it is not called "vegetable", it contains animal products. However, that doesn't mean you can't change the article if you ask politely. Disney Parks & Resorts chefs truly hold the gold standard for addressing guest allergies and nutritional needs. Many of the chefs at Walt Disney World table service restaurants love to create dishes in the blink of an eye according to the guests' wishes. So if the menu doesn't look like something you would like or you have special requirements, just ask for a chef and he will help you. Also note that new items are being added all the time. Always feel free to ask a chef what's new or if they have vegan ice cream or other products that may not be on the menu. You never know, with a little faith, hope and fairy dust, vegan dreams will come true.
Suzannah Mitchell Otis has been writing and running about Disney on Zannaland.com since 2009 VeganDisneyFood.com– shares vegan finds from Disney parks on both coasts and in the Orlando area, where she lives.
!function(f,b,e,v,n,t,s)
{if(f.fbq)return;n=f.fbq=function(){n.callMethod?
n.callMethod.apply(n,arguments):n.queue.push(arguments)};
if(!f._fbq)f._fbq=n;n.push=n;n.loaded=!0;n.version='2.0′;
n.queue=[];t=b.createElement(e);t.async=!0;
t.src=v;s=b.getElementsByTagName(e)[0];
s.parentNode.insertBefore(t,s)}(window, document,'script',
'https://connect.facebook.net/en_US/fbevents.js');
fbq('init', '224533741955785');
fbq('track', 'PageView');