The Must-Have Vegan Guide to Starbucks Summer Beverage
In May 2021, the coffee chain Starbucks brought oatly oat milk to the market in the USA to a great roar and presented two new ice drinks made with the non-dairy milk. When the temperature rises, we swap our hot oatly vanilla lattes for some caffeine on ice. From straightforward nitro to the little-known violet drink, here's your must-have vegan guide to summery Starbucks sips.
Fit mom x3
1. Nitro Cold Brew
At first glance, the thick layer of foam floating on this plain, chilled coffee might look like cream, but it isn't – it's crema, and there's a big difference. Crema is simply the foam enriched with CO2 that is created when coffee oils emulsify with water under high pressure. In the case of Starbucks, it is also made when nitrogen is added to the cold brew. The result is an incredibly soft, slightly sweet, ice-cold coffee without sugar or cream. Even those who say they can't drink black coffee can enjoy this drink – no milk jug or stevia is required.
Barista tip: Stay away from the Nitro Cold Brews that come with Sweet Cream or Salted Honey Cold Foam. These actually contain dairy products and other animal products.
2. Iced coffee
The difference between iced coffee and nitro at Starbucks is $ 1.50. Aside from the price, iced coffee is more bitter as it is not enriched with nitrogen and you won't find a crema on top. It's the perfect jolt when you need it, however, and it goes smoothly with a squirt of soy milk. Since the Starbucks brand of soy is very sweet in and of itself, you can probably skip the classic syrup pump.
Barista tip: Opt for soy or oat milk if you crave a creamy element. Both have been tested and reliably do not curdle in the coffee. Add almond or coconut milk at your own risk.
3. Flavored iced coffee
If you lean on the sweet side, mix your favorite beverage with flavored syrups. An iced coffee with a dash of soy and a pump or two of sweetener can stimulate your brain and please your taste buds. Instead of the standard classic syrup, choose hazelnut, vanilla, caramel, toffee nut, raspberry or cinnamon dolce varieties. All of this is vegan!
Barista tip: A tall comes automatically with three pumps of classic syrup. For a not-so-sweet coffee with just a hint of sweet taste, ask for one to one and a half pumps for a tall and two for a grande.
4. Starbucks espresso on ice
For an almost immediate burst of caffeine with a strong coffee flavor, espresso on ice is the drink to order. Sip it like a fine whiskey or shoot it back when you're on the go. Order the chain's signature espresso or ask for blonde for a milder taste.
Barista tip: To reduce the bitter taste of pure espresso, ask for an espresso doubleshot on ice with soy, almond, coconut or oat milk.
5. Americano on ice
An americano is simply coffee diluted with water. The Blonde Roast option is also available for a smoother finish.
Barista tip: It's basically iced coffee after the ice has melted, but it's 10 cents cheaper for a big one.

Starbucks
6. Iced Chocolate Almond Milk Shaken Espresso
When Mixology is combined with coffee, you get a shaken espresso. This vegan espresso drink was launched in March 2021 and consists of Starbucks 'Blonde Espresso that is shaken with ice in a plastic cocktail shaker. The cooled shots are poured onto ice and combined with vegan malt powder and almond milk.
Barista tip: This drink isn't actually obtrusively sweet, but if you want to try the espresso, ask for a long shot.
7. Iced Brown Sugar Oat Milk Shaken Espresso
This new item has evolved since its inception due to the fluctuating availability of Oatly oat milk on and off the menu. Since its debut in March, Starbucks has struggled to keep stocks of oat milk due to apparently unforeseen consumer demand. If you happen to find it on the menu, here's what you need to know: It's a creamy, cinnamon-flavored drink made from shaken, ice-cold blonde espresso combined with oat milk and brown sugar syrup.
Barista tip: Chop your way to this drink even when the oat milk is out. Ask for a Shaken Iced Espresso with two pumps of brown sugar syrup and almond milk (the soy will be too sweet).
8. Iced Flat White
What is the difference between a flat white and a latte? A flat white is stronger in the espresso taste and has no foam layer on the frothed milk. However, when it comes to iced options that don't involve steaming, the difference is less noticeable. Order an Iced Flat White for a slightly less milky version of a latte.
Barista tip: You have an extra 60 cents if you opt for an Iced Flat White over an Iced Latte. You have been warned.
9. Iced latte
Poured on ice, a latte loses its characteristic frothy coating. However, if you're looking for a drink that will catapult you through the afternoon lull and easily drown, an ice-cold latte is certainly enough. As with iced coffee, you can add any syrup to it – just stay away from the caramel sauce (the syrup is fine, the sauce contains dairy products. Confusing, we know). Remember to swap the cow's milk for your preferred dairy-free alternative.
Barista tip: Do you still want the creaminess, but with more espresso flavor? Please take a long shot. This type of shot is drawn with more water and ends up being roughly twice the volume than a traditional shot. The result is a less milky, yet creamy drink that actually tastes like coffee.
10. Iced Cinnamon Dolce Latte
While we've already gone through the latte category, this one deserves special attention as it is not vegan by default. This menu item comes with whipped cream and cinnamon dolce topping, both of which contain dairy products. Veganize this sweet, cinnamon drink by asking for non-dairy milk, no whipped cream, and substituting a pinch of nutmeg for the Cinnamon Dolce topping.
Barista tip: Ask for light ice so you get more of the good stuff and avoid a sad, watered down drink.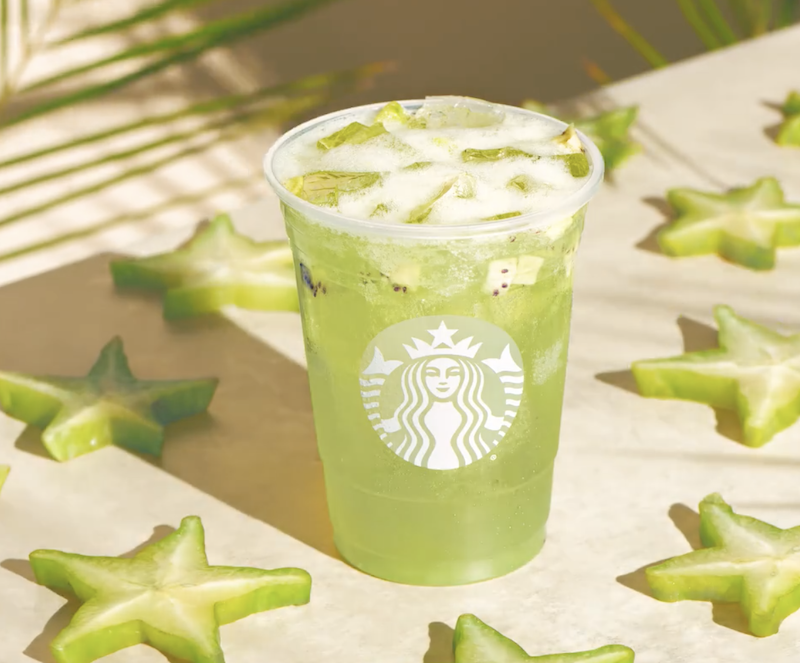 Starbucks
11. Star drink
Given the title of this giant, we're really surprised that it didn't come up with this name sooner. McDonalds adds "Mc" to virtually every menu item, but that's the first thing we know "Star" is implemented into every type of Starbucks beverage option. The cool drink is similar to the pink drink – it is made from coconut milk, caffeinated kiwi Starfruit Refresher Base and freeze-dried kiwi fruit.
Barista tip: Beware of the tiny kiwi seeds. This is not the drink for you if you are going to a meeting. Prepare to pluck seeds from your teeth.
12. Iced mocha
It's caffeinated chocolate milk – what's not to love? Swap your favorite milk without milk and don't ask for a whip.
Barista tip: Ask for a pump less of mocha sauce and add a pump of hazelnut, peppermint, or raspberry syrup (for a big one) for a tasty touch.
13. Iced pineapple matcha drink
Even matcha averses will fall in love with this green colored, slightly caffeinated drink. The grassy taste of matcha green tea is shaken on ice with sweet pineapple-ginger syrup and smooth coconut milk.
Barista tip: Would you like to try more matcha? Ask for one or two pumps less pineapple and ginger syrup.
14. Iced guava passionfruit drink
Launched just in time for Memorial Day and the unofficial start of summer, this new vegan item completes Starbucks' trio of coconut milk-based ice drinks. The soft pink tinted drink is made from a juice mixture with guava flavor, coconut milk and pineapple-ginger syrup shaken with ice.
Barista tip: If you have the patience to wait this drink would make an amazing popsicle. Don't ask for ice and put the mug in your freezer for a couple of hours when you get home.
15. Pink, Violet and Dragon Drinks Dragon
After the unprecedented popularity of the infamous pink drink, Starbucks really leaned on this color scheme. The classic Pink Drink is a creamy energy drink with coconut milk, Strawberry Acai Refreshers Base and freeze-dried strawberries that are shaken with ice. The Violet version contains the Very Berry Hibiscus Refresher Base and blackberries instead of strawberries. The Dragon drink is an equally lively caffeinated drink made from coconut milk, Mango Dragonfruit Refresher Base (liquid with mango and dragon fruit flavor, mixed with green coffee) and freeze-dried pieces of dragon fruit that are shaken on ice.
Barista tip: The Dragon Drink doesn't actually contain any mango – the base consists mainly of white grape juice concentrate with natural (but vegan-friendly) flavors.

GelliccaByLacie
16. Purple drink
Purple Drink is a sweeter, kid-friendly version of Starbucks' fruit-infused pink spectrum. It's a caffeine-free drink made with Passion Tango Iced Tea, soy milk, vanilla syrup, and freeze-dried blackberries.
Barista tip: Do you prefer strawberries? Ask the barista to trade them for blackberries.
17. Refreshments
These fruity drinks do not contain coffee, but they will definitely keep you vigilant. Each one contains 35 milligrams of caffeine (in a large one), which is about one-third the amount in a cup of coffee. They consist of a flavored refresher base that is shaken with ice and freeze-dried fruit. Choose from Mango Dragon Fruit, Mango Dragon Fruit Lemonade, Strawberry Acai, Kiwi Star Fruit, Kiwi Star Fruit Lemonade, and Very Berry Hibiscus.
Barista tip: You can pair any refresher with lemonade for a subtle touch of sweet summer frizz.
18. Chocolate milk
Whether you have a child with you or not, Starbucks can prepare a customized chocolate milk for you. Just ask for your preferred dairy-free alternative (oats or coconut would be particularly tasty in this application) with 2-3 pumps of chocolate syrup (for a large one).
Barista tip: Help yourself with a pinch of cinnamon or nutmeg for a chilled Mexican hot chocolate.
19. Iced tea
Starbucks can put any tea on ice, but they also have a full selection of teas specifically designed to keep you cool. Choose from black, white, vegetable, or green varieties (including matcha).
Barista tip: You can ask for any iced tea with lemonade for a customized Arnold Palmer. Matcha, Passion Tango, Black and Peach are particularly perfect lemonade pairings.
20. Iced tea latte
Any tea can be turned into a tea latte by asking for non-dairy milk, although the menu currently includes Matcha, London Fog, and English Breakfast tea lattes.
Barista tip: Unfortunately, the Chai Tea Latte is not vegan. It contains honey.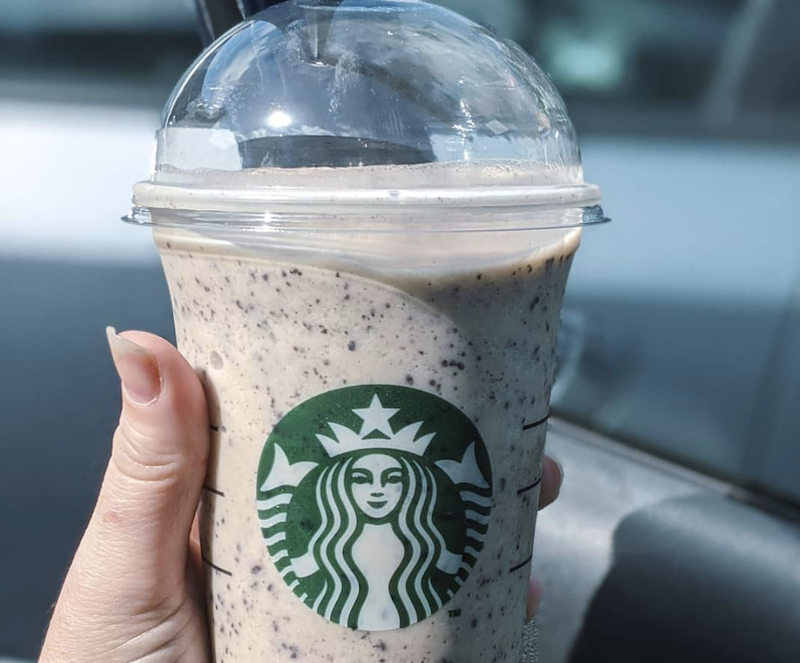 _JanetheVegan_
21. Frappuccino
These cool, milkshake-like coffee drinks got us hooked in high school, and now no summer is complete without the occasional Starbucks frappuccino. The drink is divided into two categories: coffee and cream (the latter is caffeine-free and ideal for children and teenagers). Vegan-friendly coffee options include mocha cookie crumble (replace the frappuccino chips for extra chocolate cookie grind topping), espresso, caffè vanilla, coffee (yes, it's different from espresso), and mocha. For the kids, crème options include Chocolate Cookie Crumble (replace the frappuccino chips for extra Chocolate Cookie Grind Topping), strawberry, vanilla pod, and matcha green tea. No matter which taste appeals to you, ask for the dairy-free milk of your choice and not for whipped cream.
Barista tip: For a less sweet treat, ask for a pump less syrup. For vegan-friendly off-menu options, see this article (mmm, Red Velvet!).
22. Everything on hold
Don't you see your favorite hot beverage frozen? Just ask. Starbucks baristas have the power to freeze anything. Always remember to replace the standard 2 percent cow's milk with non-dairy milk, keep the whipped cream and stay away from java chips, frappuccino chips, cinnamon dolce topping, pistachio sauce and caramel sauce. Follow these rules and you will practically know. To a cool summer.
Tanya Flink is a digital editor at VegNews, and a writer and runner who lives in Orange County, CA.
!function(f,b,e,v,n,t,s)
{if(f.fbq)return;n=f.fbq=function(){n.callMethod?
n.callMethod.apply(n,arguments):n.queue.push(arguments)};
if(!f._fbq)f._fbq=n;n.push=n;n.loaded=!0;n.version='2.0′;
n.queue=[];t=b.createElement(e);t.async=!0;
t.src=v;s=b.getElementsByTagName(e)[0];
s.parentNode.insertBefore(t,s)}(window, document,'script',
'https://connect.facebook.net/en_US/fbevents.js');
fbq('init', '224533741955785');
fbq('track', 'PageView');