The Race to Replace Chicken: Impossible Foods brings vegan chicken nuggets to market
This fall, Impossible Foods will be launching plant-based chicken nuggets in the food service area. The company's new Impossible Chicken Nuggets, the company's first chicken product, will be unveiled next week at DOT Foods (the country's largest food redistributor) to show operators the potential of its plant-based chicken. The Impossible Chicken Nuggets are made from sunflower oil and textured soy, possibly from non-GMO sources, and are expected to expand to the retail sector once they are launched on the foodservice channel – which may also include school menus.
In May, Impossible Foods secured a Child Nutrition (CN) label – an accreditation from the U.S. Department of Agriculture (USDA) – that allows its Impossible burger products, both patties and loose, to be sold in K-12 for breakfast and lunch. to serve schools nationwide. Chicken nuggets can be found in many school canteens across the country and Impossible's new plant-based nuggets have been made as a viable alternative.
Impossible Foods was previously best known for its Impossible Burger, which recreates beef with the help of soy leghemoglobin ("heme"), a hero ingredient that gives the plant-based patty meat-identical qualities. The new Impossible Chicken Nuggets contain no heme, an ingredient that the company tried in its formulation process but was found to be redundant in its new chicken product.
And while Impossible Foods now has some plant-based meat products under its belt – and a prototype of a "functional" plant-based milk – the disruptive company aims to create viable plant-based alternatives to any animal-based food within the next 14 years. "Our mission is to completely replace the use of animals as a food technology by 2035. We mean business and we believe it can be done, "said Pat Brown, CEO of Impossible Foods, at a recent conference. "I was confident that we would be successful when I started this company and now I am absolutely confident. For the incumbent, it's game over [meat] Industry – they just don't know yet. "
Beyond Meat is into vegan chicken
Impossible Foods and Beyond Meat have faced each other on shelves and foodservice menus around the world in their race to replace beef and pork with plant-based alternatives for the past five years. Now both brands are tackling chicken, with Beyond Meat's version hitting restaurants first.
Last week, Beyond Meat announced the launch of its Beyond Chicken Tenders in around 400 restaurants, including pubs, bars, traditional chicken wing shops, and vegan chains. The tenders aren't Beyond Meat's first foray into vegan chicken – it offered (now discontinued) plant-based chicken strips in 2012. However, its innovation team has spent a decade perfecting vegan chicken that replicates its animal counterpart. Breaded Beyond Chicken Tenders are made from a mix of broad beans and peas and have already been recognized by the National Restaurant Association for calling them "a must-have item on your menu for the Chicken Wars competition".
The slaughter of the Chicken Wars
Billions of chickens are tortured annually to make nuggets, wings and tenders, and chicken meat is now scarce due to the disruption to the meat industry caused by the COVID-19 pandemic. The demand for chicken has also skyrocketed due to the so-called "Chicken Wars" sparked by the popularity of chicken sandwiches at chains like Popeyes and Chick-Fil-A – with new entrants in the Chicken Wars putting additional pressure on the meat industry, too Pumping out cheap chicken loads of animal welfare.
However, plant-based companies like Beyond Meat and Impossible Foods are entering the chicken market at an opportune time. With fast food chains struggling to store animal chicken and the meat industry struggling to fill the production gap created by the pandemic, vegan chicken is becoming a very attractive alternative.
In 2019, KFC wanted to differentiate itself from its chicken chain competitors by adding Beyond Fried Chicken to its menu for a day at a location in Atlanta. There the vegan chicken was made by Beyond Meat and sold out in less than five hours. KFC has expanded the test market to various locations in Southern and Southern California, but has yet to launch Beyond Fried Chicken nationwide. Given that Popeye's is reportedly storing chicken while it prepares to launch its own chicken nuggets later this month, a move towards vegan chicken could prove profitable for future-oriented chains.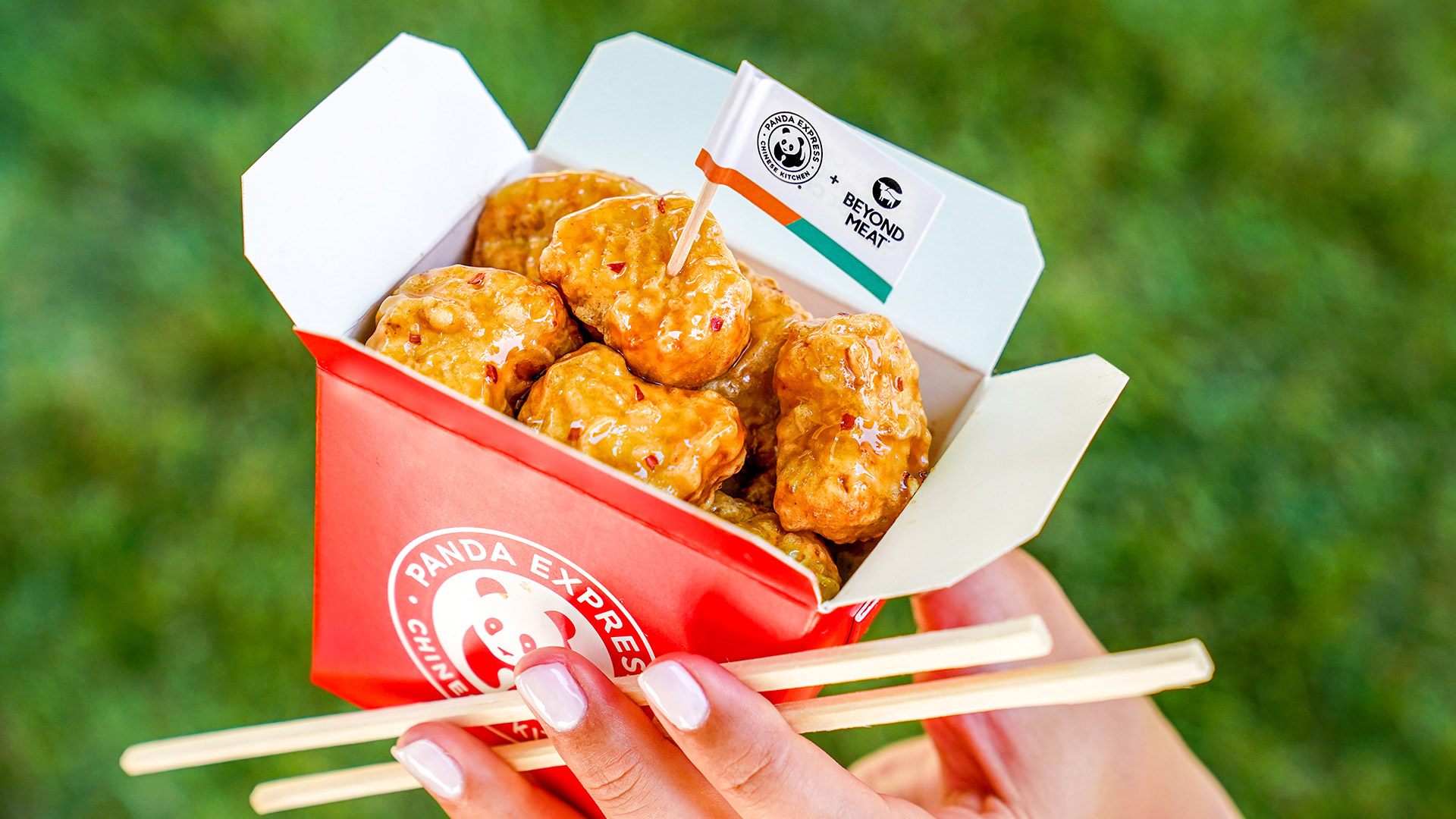 One chain ahead of the chicken wars is Panda Express, which will be testing a vegan version of their famous orange chicken, developed in partnership with Beyond Meat. Starting July 26th, Panda Express will be launching Beyond The Original Orange Chicken – which has the same taste, crispness, and tangy sauce as the original, but with no animal products – for a limited time in select locations in New York City and Los Angeles Angeles add the goal of a major rollout after the test starts.
!function(f,b,e,v,n,t,s)
{if(f.fbq)return;n=f.fbq=function(){n.callMethod?
n.callMethod.apply(n,arguments):n.queue.push(arguments)};
if(!f._fbq)f._fbq=n;n.push=n;n.loaded=!0;n.version='2.0′;
n.queue=[];t=b.createElement(e);t.async=!0;
t.src=v;s=b.getElementsByTagName(e)[0];
s.parentNode.insertBefore(t,s)}(window, document,'script',
'https://connect.facebook.net/en_US/fbevents.js');
fbq('init', '224533741955785');
fbq('track', 'PageView');