The vegan guide to the cheesecake factory
The Cheesecake Factory's menu can be daunting, but it's easy to narrow down the wide variety by just looking at the vegan-friendly options. The chain has made major improvements to their plant-based menu over the years – hello, Impossible Burgers and Pasta Pomodoro! We're still waiting for that vegan cheesecake, unfortunately, but if you're invited to the cheesecake factory for a festive dinner, you definitely won't go hungry.
Note: We have included various changes to non-vegan products in this list to cover all possible options. However, the Cheesecake Factory kitchen staff we spoke to advised against most changes so as not to disrupt the flavor profiles. Changes at your own risk.
Appetizers
Skim the Fusion Egg Rolls and head straight to the Edamame. Hoard this bowl for yourself while others argue over the fried foods laden with meat and cheese. If you don't feel like salted soybeans, go for the avocado toast.
Alicia LaTour
Salads
One thing should be noted: There are starter salads and appetizers. Both the Little House Salad and Tossed Green Salad are vegan as they are when ordered with vegan dressing (balsamic vinaigrette, shallot vinaigrette, SkinnyLicious mustard vinaigrette, and French mustard vinaigrette). The Greek salad (don't ask for any cheese), the avocado and beet salad (don't ask for a yogurt dressing), and the French country salad (don't ask for any cheese, no candied pecans) are also smaller salads that are clear. For a heartier bowl of veggies, dig your fork into the hearty vegan cobb salad. It's a trough of lettuce, fresh and toasted produce, grains, nuts, and seeds in an addicting vinaigrette. Vegans can also modify the Santa Fe Salad (don't ask for any cheese or chicken), the Barbecue Ranch Chicken Salad (no cheese, chicken, onion strings, and sub with vegan dressing), and the salmon salad (don't ask for any salmon). If a salad looks good but has animal ingredients in it, cut down on meat and cheese, swap out a vegan-friendly dressing, and ask them to fill it with cereal or grilled avocado.

The cheesecake factory
Glamburger
In other words, hamburgers. If you're in the mood for something meaty, the Impossible Burger is your best bet. The completely plant-based sandwich is piled high between two special rolls with sauce and an impossible patty, melting vegan cheese, lettuce, tomatoes, cucumber and onions. It comes with your choice of green salad or french fries. The veggie burger, made from scratch, is also vegan if it is ordered without a garlic dip and replaces vegan cheese, mayo and a vegan bun. Armed with the knowledge of vegan burger toppings, you can get creative and modify your veggies or Impossible patties to your liking.
pages
Just like a steakhouse, the Cheesecake Factory sites are relatively vegan. Create a meal of your own with grilled asparagus, steamed broccoli, fresh corn, sweet potatoes or regular french fries, green beans and sautéed spinach.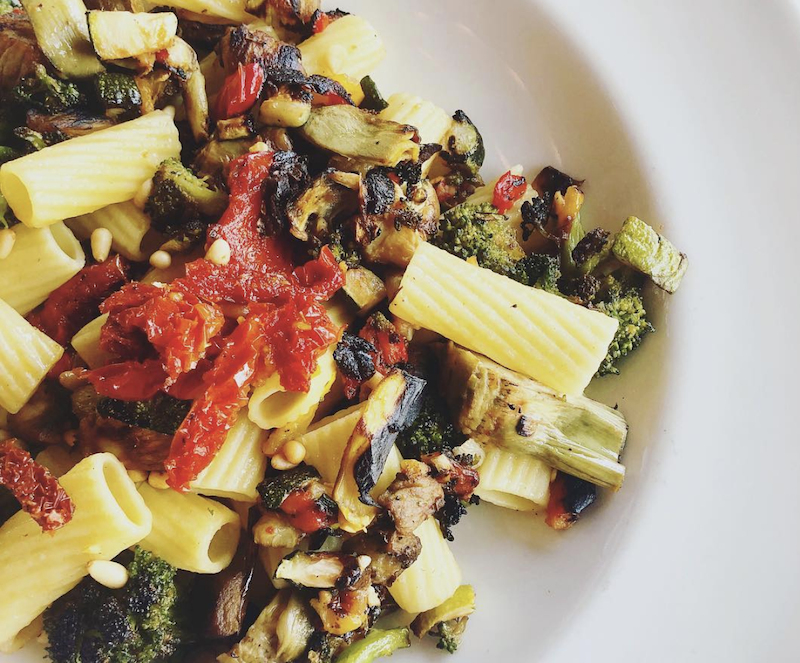 Vegan Kween
pasta
The pizza selection may be lacking, but there are plenty of pasta dishes that can be modified for vegans. Pasta Pomodoro is plant-based to the core – it stays true to the classic recipe of spaghetti, marinara sauce, cherry tomatoes and basil. The vegetable-heavy Evelyn's Favorite Pasta is almost vegan, just leave out the cheese. If you're willing to pay for it, the angel hair prawn without prawn is vegan (you still get a lemony garlic angel hair bowl with marinara and tomatoes). Ask nicely and the waiter can accommodate your request to add extra veggies to the last dish.

Stephanie Stevens
Specialties
Mexican isn't the first type of cuisine we think of when we think of Cheesecake Factory, but that hasn't stopped the chain from adding lots of tacos, burritos, and other Mexican-inspired entrees to their specialty menu. At first glance, nothing in this menu is vegan, but changes can be made. Chop your way into a vegan taco by filling corn tortillas with black beans, onions, avocado, rice, lettuce, and salsa, all topped with fresh coriander and a pinch of lime.
breakfast
We wouldn't recommend visiting the cheesecake factory for your morning meal, but if you're accompanying a non-vegan crowd there are ways to chop them up. You can choose between fruit, toast, bagels and crispy potatoes. If you need a veggie, you might be able to convince the chef to fry a hash with potatoes and veggies, but that's definitely not on the menu. As always, request changes with a polite smile and it is more than likely that your wish will be granted.
dessert
Technically, there is a vegan option: a bowl of fresh strawberries, no whipped cream. In any other setting, we often eat juicy, ripe strawberries, but if we do so while our meal companions are moaning at the delight of a four-inch-tall piece of cheesecake, we'd rather seek something sweeter. Dear Cheesecake Factory, if you are reading this please give the world a vegan cheesecake option with a huge pile of non-dairy whipped cream. Many Thanks.
Tanya Flink is a digital editor at VegNews as well as a writer and fitness enthusiast who lives in Orange County, CA.
Photo credit: The Cheesecake Factory