This may be the world's first dentist-owned vegan burger joint. And we're obsessed.
Fast food store in New York City Grilled! recently opened in the Bushwick neighborhood and possibly the world's first vegan burger and sandwich place owned by a dentist. Owned by entrepreneur and vegan activist Andrew DellaPietra, DDS, Grilled! Inexpensive, plant-based comfort dishes such as classic and double burgers with Beyond Meat patties, chili cheese hot dogs with Lightlife SmartDogs, grilled chicken sandwiches and tenders with Gardein Chicken and BOCA Chicken Nuggets.
The menu is led by Guillermo "Memo" Jaramillo, a chef who previously worked at the Champs Diner – another vegan restaurant in Brooklyn – who was laid off due to the COVID-19 pandemic. Grilled! also offers specialties like the Latin American-inspired arepa burger with a Beyond Meat patty on a homemade Colombian arepa topped with provolone, vegetable ham and secret pink sauce. Other specialties are the Colombian hot dog (Lightlife SmartDog with secret sauce, pineapple sauce, onion cubes and mashed potato chips); the Cubano (made with marinated seitan pork, ham, Swiss cheese and pickles); and the Choripan hero (with a Beyond sausage drizzled with mustard and homemade chimichurri sauce).
Prices range from $ 2 to $ 9.75 and reflect DellaPeitra's mission to make veganism more accessible to the surrounding communities. "We serve over 100 meals a day for both vegans and non-vegans," DellaPietra told VegNews. "They love the food first and foremost, though [customers] also love the prices. None of our items cost more than $ 10, and always will be. We want people to have little or no obstacles to a plant-based diet. "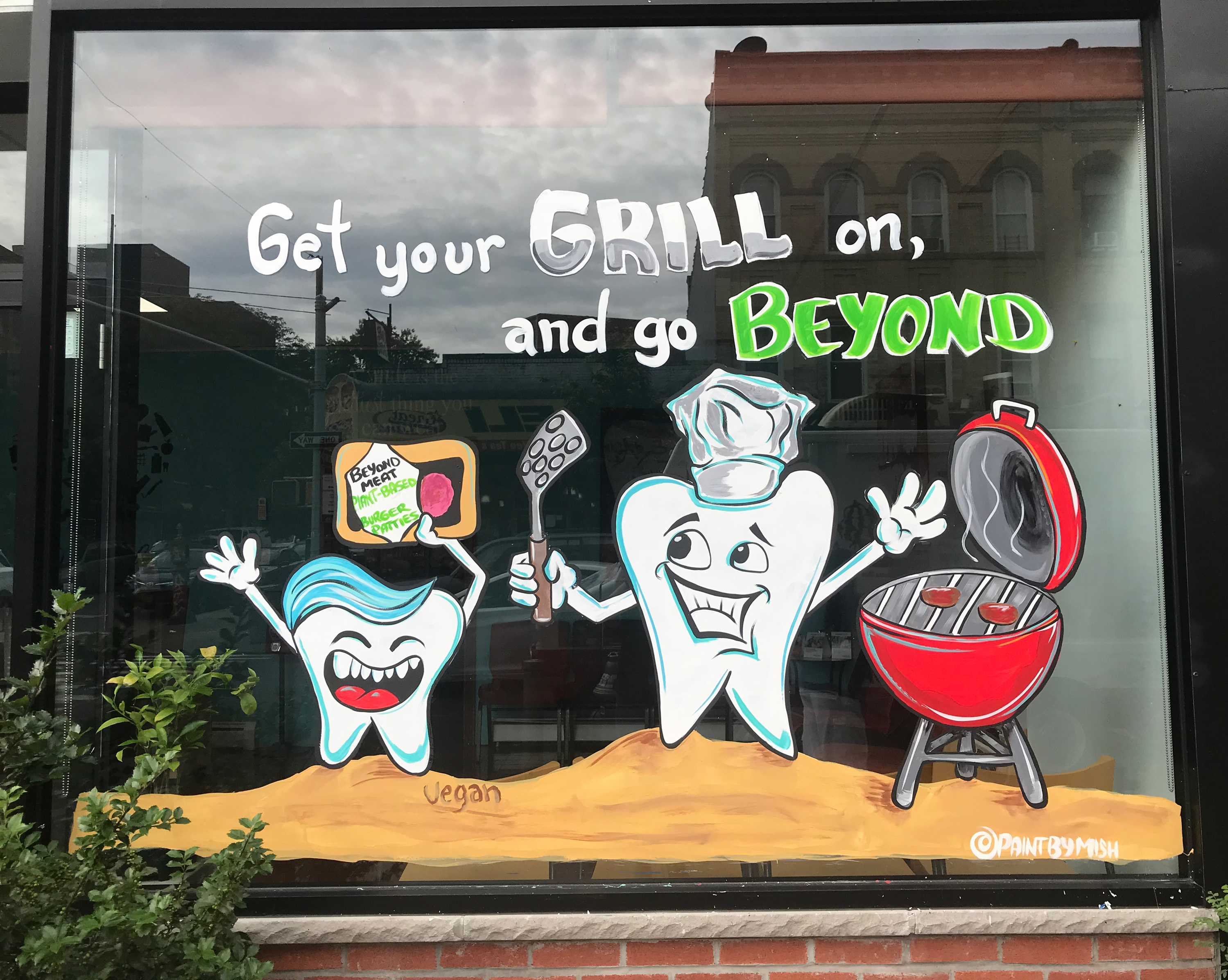 Grilled! Consciously relies on recognizable vegan products that are also available in stores. "People are much more aware of the suffering of animals today, especially in the age of social media," said DellaPietra. "They want to eat more plant-based foods, they just need to make it more accessible and affordable. They also have to familiarize themselves with vegan products, which is why we consciously focus on brands such as Beyond Meat, Gardein, Field Roast, Violife, [and more]. We want people to try and enjoy them at Grilled! then [purchase these items] on your own and continue on the plant-based path. "
Brooklyn's vegan dentist
Located next to Bushwick Dental Group, a DellaPietra dental practice, Grilled! is not the dentist's first foray into vegan and animal rights activism. While he no longer clinically treats patients today, DellaPietra began working as a dentist in the early 1990s. Almost 20 years later, he took a special diet – and switched to veganism shortly thereafter – after attending the National Animal Rights Conference (NARC) in Washington, DC, in 2009.
"Back then I was a big fan of Whale wars, a show on Animal Planet showcasing the Sea Shepherd Conservation Society's anti-whaling efforts in the Antarctic Ocean, "said DellaPietra. "I went to their website and found out that they were going to be attending the NARC. I thought I was an animal lover so I decided to go. There I got to know the plight of animals – all animals, not just domestic animals; Whales and dolphins. I learned about pregnancy crates, battery cages, forced impregnations, and many other ailments. I left the conference deeply affected by the suffering of animals – be it for food, fashion, entertainment, or experimentation. I have sworn to myself that I will do what I can to alleviate their suffering. Twelve years later, this is still the case. Although much has been practiced, the struggle for the liberation of the animals continues. "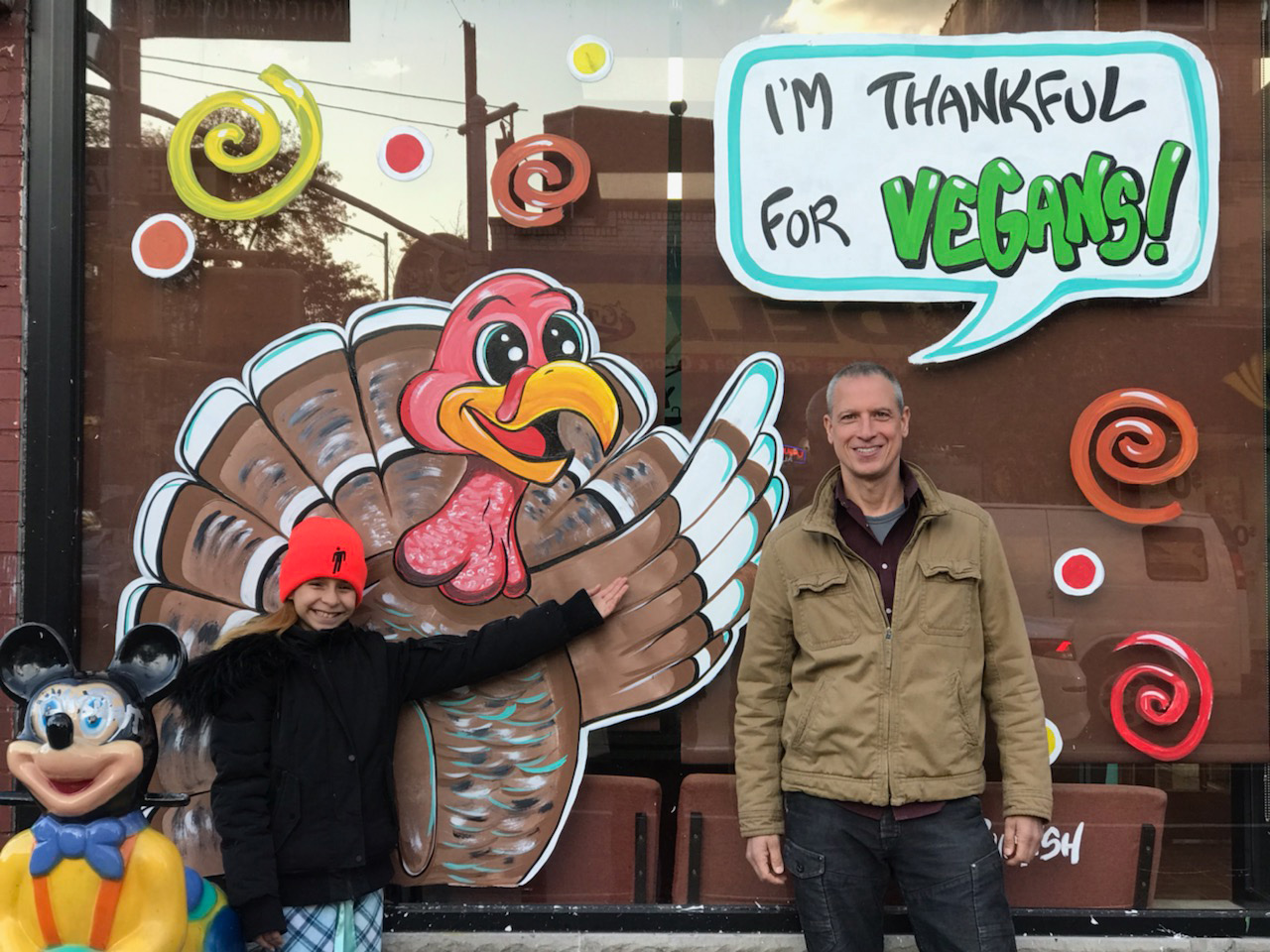 Fighting for animals with vegan food
After a decade of street and online activism, DellaPietra is excited to use food as a new form of activism to make veganism more accessible. Aside from Grilled !, in his dental office, DellaPietra's activist efforts have been in play for years. Large, seasonal murals with vegan messages (such as "Go Vegan" and "Dairy Kills") can often be seen in the front and center of the entrance to the dental clinic. This includes vegan starter kits, informative brochures from the non-profit organization Vegan Outreach, interactive children's books and copies of VegNews magazine are stocked in the waiting room for the vegan curious.
"Every day, in every way and in every medium, there is an opportunity to 'educate, advocate and liberate'. "We all have resources, skills and opportunities to help animals – be it on social media; through leaflets, protests, or wearing vegan clothing; and yes, even through the shop window of a dental practice. "
!function(f,b,e,v,n,t,s)
{if(f.fbq)return;n=f.fbq=function(){n.callMethod?
n.callMethod.apply(n,arguments):n.queue.push(arguments)};
if(!f._fbq)f._fbq=n;n.push=n;n.loaded=!0;n.version='2.0′;
n.queue=[];t=b.createElement(e);t.async=!0;
t.src=v;s=b.getElementsByTagName(e)[0];
s.parentNode.insertBefore(t,s)}(window, document,'script',
'https://connect.facebook.net/en_US/fbevents.js');
fbq('init', '224533741955785');
fbq('track', 'PageView');