This sneaker is the first to use vegan leather made from recycled bubble wrap
A new vegan shoe was designed with recycled bubble wrap. The nat-2 Sleek Low Sneaker (350 US dollars) is the result of a collaboration between the German sustainable shoe brand nat-2 and the Israeli textile innovator Remeant. Nat-2 is known for using innovative materials for its shoes, and vegan company Remeant is converting discarded plastic from landfills and oceans to create high quality, sustainable materials for a variety of product uses such as handbags, furniture and clothing.
Nat-2's Reduceusecycle Line includes three vegan shoes made from recycled materials, including recycled Velcro and cord. Its bubble wrap version uses Remeant's innovative material, which is made from single-use plastic using a patented process that ensures high durability, waterproofness and low weight. The bubble wrap leather is 100 percent vegan and is the first time Remeant's bubble wrap material has been used in a shoe design.
The gender-neutral nat-2 sneakers are handcrafted in a small family production facility in Italy. The upper of the Sleek Low is made of the bubble wrap material, while the midsole is made of removable cork. The outsole is made of rubber and the laces are made of recycled PET. The heel collar made of reflective glass particles is unique.
Sustainable vegan shoes are the future
Brands around the world are using innovative vegan materials to create more sustainable shoe options. This month, the luxury brand Gucci launched its first line of vegan sneakers from Demetra, a leather alternative made from 77 percent vegetable raw materials, including wood pulp and viscose. So that the sneaker looks like animal leather, it is tanned like leather, but without cruelty to animals or environmental pollution.
Gucci's parent company Kering – which also leads the development of Saint Laurent, Bottega Veneta, Balenciaga, Alexander McQueen and others – is part of a coalition of fashion brands working with startup Bolt Threads, manufacturer of vegan leather made from mushrooms. Together with Adidas, Stella McCartney, Lululemon, Kering works with Mylo des Startups, a sustainable vegan leather made from mycelium, the fast-growing root systems of fungi. As part of this partnership, Adidas recently unveiled the Mylo Stan Smith, a vegan version of its iconic Stan Smith mushroom-based leather sneakers.
Streetwear brand Vans recently launched its first sustainable shoe collection, Eco Theory, which includes four of the company's best-selling shoe models made from ethical, vegan and environmentally friendly materials. Instead of traditional petroleum-based textiles like suede and rubber used in other Vans products, the Eco Theory collection offers eco-friendly options like organic cotton, cork, natural rubber, hemp, and water-based inks and adhesives.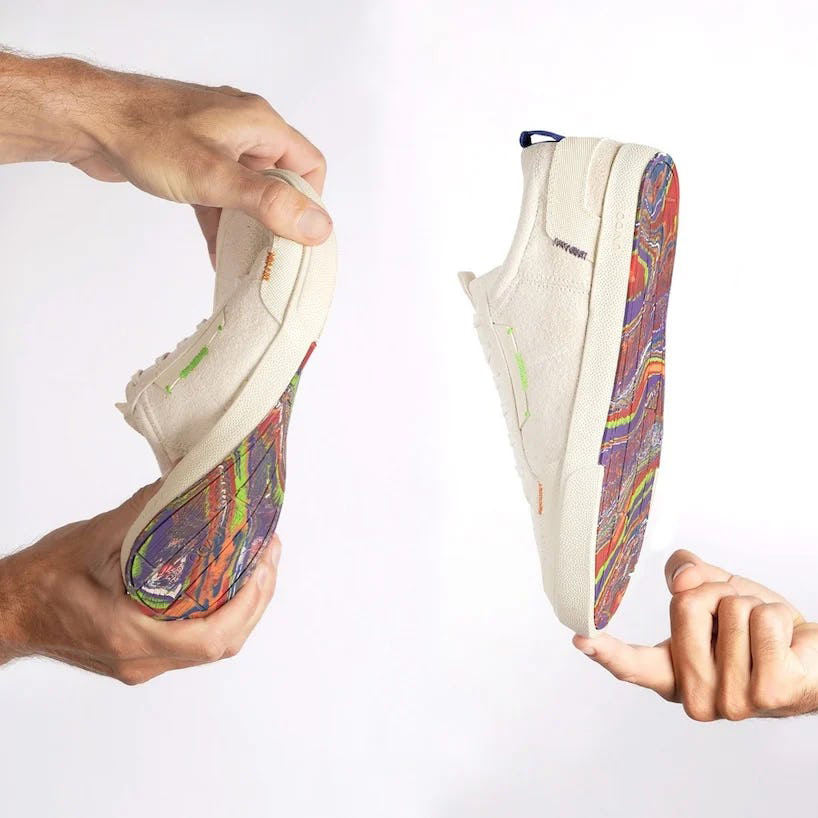 Vegan balloon leather?
The Lisbon-based shoe brand Undo for Tomorrow offers vegan "Nuven" sneakers with colorful soles made from discarded party balloons and rubber tire scraps. The shoes are made from other recycled and natural materials such as bamboo for the lining, sustainably sourced Amazon Rainforest rubber for the toe caps, castor oil for the insole and recycled plastic for the vegan suede outer shell.
And at the beginning of the year, the shoe brand Sylven New York launched the world's first vegan sneaker made from apples and coconut. The "Mel" sneaker is handmade in Italy from apple leather, coconut shells and a renewable rubber made from tree sap. The apple leather, made from organic apple waste from Italy, is a material that the brand has been using for a long time, but the coconut shells and lactate hevea rubber are new natural materials that have been incorporated into the shoe.
!function(f,b,e,v,n,t,s)
{if(f.fbq)return;n=f.fbq=function(){n.callMethod?
n.callMethod.apply(n,arguments):n.queue.push(arguments)};
if(!f._fbq)f._fbq=n;n.push=n;n.loaded=!0;n.version='2.0′;
n.queue=[];t=b.createElement(e);t.async=!0;
t.src=v;s=b.getElementsByTagName(e)[0];
s.parentNode.insertBefore(t,s)}(window, document,'script',
'https://connect.facebook.net/en_US/fbevents.js');
fbq('init', '224533741955785');
fbq('track', 'PageView');