Vegan Beyond Meat Chicken Tenders come in 400 restaurants
Today, vegan brand Beyond Meat launched Beyond Chicken Tenders in nearly 400 restaurant locations across North America. The new breaded vegan chicken tenders are made from a combination of broad beans and peas and provide 14 grams of protein per serving. Unlike their animal counterparts, Beyond Chicken Tenders are free from cholesterol, antibiotics, hormones, and cruelty to animals. The tenders are designed to serve as a substitute for chicken in appetizers, entrees, salads, sandwiches and more.
"We are rejuvenating the poultry market with the new Beyond Chicken Tenders – the result of our relentless pursuit of excellence and growth at Beyond Meat," said Dariush Ajami, Beyond Meat's Chief Innovation Officer. "Like all of our products, Beyond Chicken Tenders offer delicious taste and an exceptional dining experience along with powerful nutritional benefits. Innovation is at the heart of Beyond Meat, and Beyond Chicken Tenders are the latest example of our mission to create groundbreaking, tasty options that are better for people and our planet. "
The new vegan tenders are served by chains such as Dog Haus, Epic Burger, Toppers Pizza and Fire Wings. A full list of the restaurants that offer the Beyond Chicken Tenders can be found here Here. In addition, is a vegan grocer from Toronto Good vegan Rebel supplies offers the new tenders from Beyond Meat (in 8-packs and 5-lb large bags of 50-52 pieces) for delivery throughout Canada.
Lack of chickens? Vegan Chicken is here to help
While the brand is best known for Beyond Burger (a vegan beef alternative) and Beyond Sausage (a vegan pork alternative), Beyond Meat pioneered vegan chicken back in 2012 when it offered chicken strips (now discontinued). With the new Beyond Chicken Tenders, Beyond Meat's team of more than 200 innovators has spent nearly a decade perfecting a new plant-based chicken product to meet consumer expectations.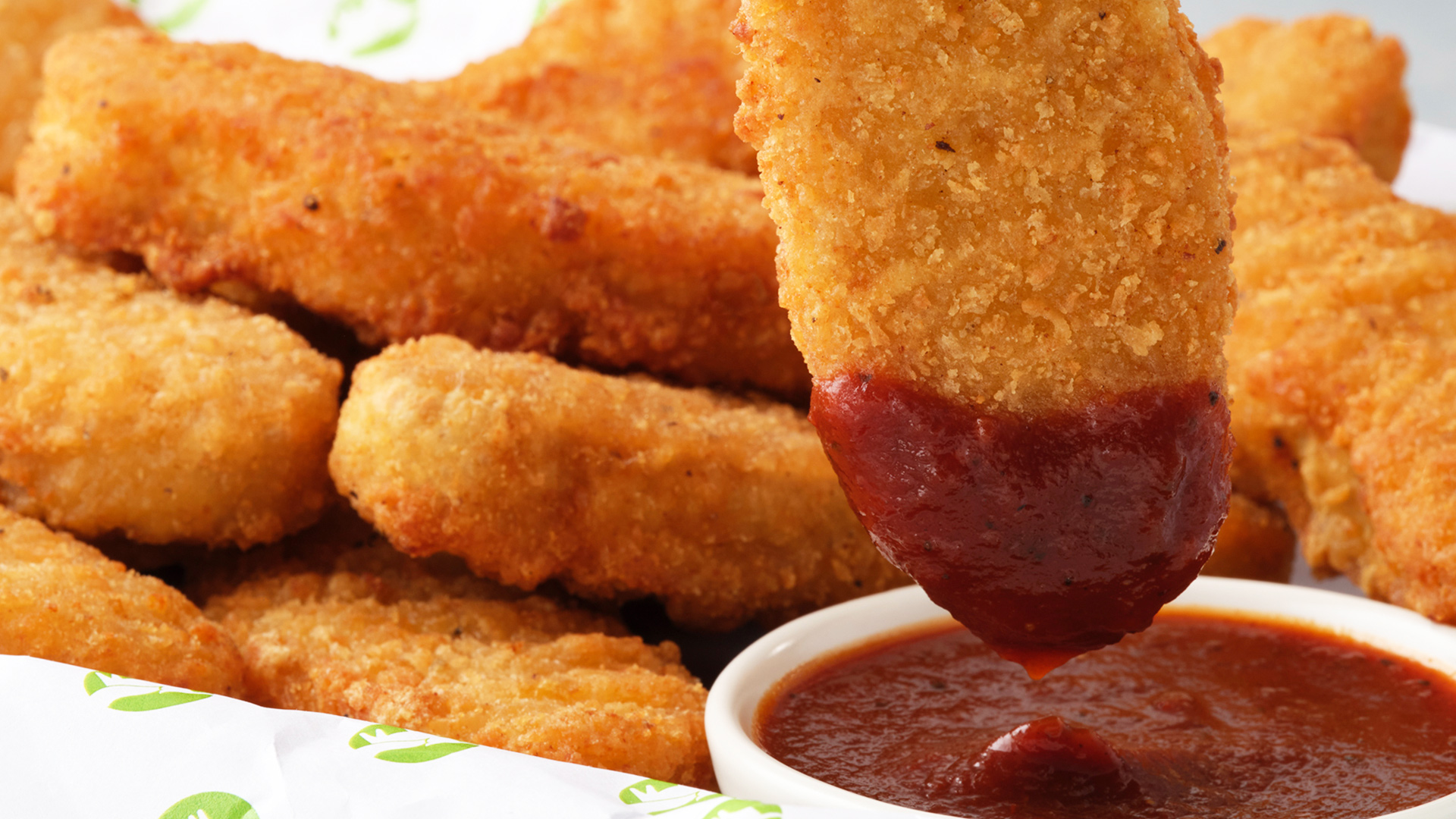 The new Beyond Chicken Tenders hit the foodservice channel at a time when animal chicken is becoming increasingly popular due to COVID-19 production disruptions and increased demand due to the popularity of chicken sandwiches in places like Popeyes, Chick-fil-A, and KFC. Beyond Meat hopes to take advantage of this good time to introduce its new vegan chicken tender restaurant partners who may be looking for a viable alternative as chicken supplies are running low.
The National Restaurant Association (NRA) has already honored the vegan tenders with the Food and Beverage (FABI) Award 2021. This is the fifth time that Beyond Meat has received a FABI for its plant-based innovations. "Beyond Chicken Tenders are a sought-after, crunchy, and delicious plant-based product that meat lovers and vegetable lovers alike will immerse, crunch, and love," said the NRA. "In consumer testing, Beyond Chicken Tenders scored the same on liking the leading animal-based chicken tender, making it a must-have menu item that will upgrade your menu for the Chicken Wars competition."
The vegan chicken from KFC
The launch of Beyond Chicken Tenders with food service providers isn't the first time a Beyond Meat vegan chicken product has appeared on a restaurant's menu. In August 2019, Beyond Meat partnered with chicken giant KFC for a one-day, limited-edition launch of Beyond Fried Chicken at a location in Atlanta. There, KFC offered two types of Beyond Fried Chicken: as nuggets served with a choice of dipping sauce and as boneless wings that were tossed in a choice of three sauces.
The Atlanta KFC was all green for launch and opened to queues at the door that stretched for two blocks and cars bumper-to-bumper in the driveway. The Atlanta KFC sold out from Beyond Meat's vegan chicken in less than five hours.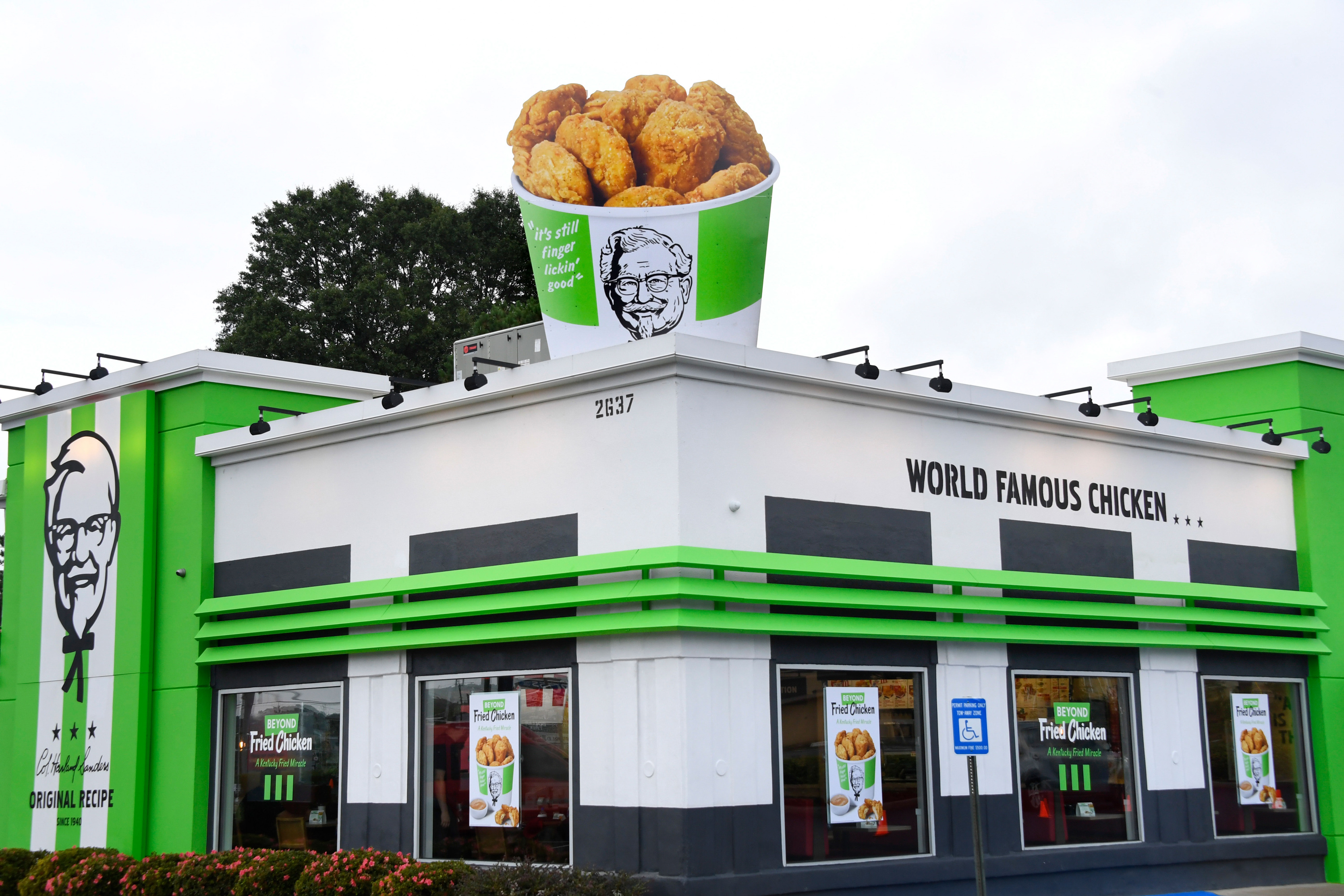 After the extremely successful test start, KFC expanded the Beyond Fried Chicken options to almost 70 locations in North Carolina and Tennessee for three weeks in February 2020. That test led to Beyond Fried Chicken's expansion into Southern California last July, where it was offering vegan chicken in approximately 50 locations for a very limited time. VegNews inquires about a national expansion of Beyond Fried Chicken – a vegan Beyond Meat pull-apart chicken made specifically for KFC that is different from the new Beyond Chicken Tenders.
In Canada, KFC teamed up with Lightlife to test a fully vegan plant-based fried chicken sandwich and vegan popcorn chicken (fried separately from the meat) in November 2019 at a restaurant in Mississauga, ON August 2020 extended to all of its locations.
KFC offers vegan chicken in several countries outside of North America, including the UK. There, in June 2019, KFC tested the so-called "The Imposter" vegan chicken sandwich at selected outposts. This test was also a sold-out success, with KFC selling out the vegan chicken burgers in four days. In January 2020, KFC UK added the renamed Vegan Burger, made with a Quorn patty, to all of its 900 UK locations. By the end of January, KFC UK had sold a million vegan burgers, which is the equivalent of selling one vegan burger every three seconds.
Photo credit: Beyond Meat / Good Rebel Vegan Provisions
!function(f,b,e,v,n,t,s)
{if(f.fbq)return;n=f.fbq=function(){n.callMethod?
n.callMethod.apply(n,arguments):n.queue.push(arguments)};
if(!f._fbq)f._fbq=n;n.push=n;n.loaded=!0;n.version='2.0′;
n.queue=[];t=b.createElement(e);t.async=!0;
t.src=v;s=b.getElementsByTagName(e)[0];
s.parentNode.insertBefore(t,s)}(window, document,'script',
'https://connect.facebook.net/en_US/fbevents.js');
fbq('init', '224533741955785');
fbq('track', 'PageView');